Introduction
Facebook Ads is the marketing side of Facebook, pretty much everybody is using Facebook, but those who use it professionally use Facebook Ads.
It allows businesses and individuals to advertise to their target audiences on what still is the world's largest social media platform with over 3 billion users.
Looker Studio is a Google tool that allows you to visualize your data in customisable reports and dashboards. With it, you can connect your analytics, media, or raw data and start creating dashboards.
It is possible to use Looker Studio as a Facebook Ads reporting tool, but you need a connector to be able to analyze Facebook Data in GDS. In the remainder of this full guide, we will explain and show how to set up and use Facebook Looker Studio via Windsor.ai.
Table of content:
How to link Facebook Ads to Looker Studio?
If you are looking to have a full Looker Studio Facebook integration and be able to have a Facebook Ads Looker Studio analysis you will need to link your Facebook Ads account to Google Studio.
In this tutorial we will present three options.
Setting up Looker Studio
Let's start with the basics and explain how to set up a Looker Studio account. In order to do that, you will need to have a Google account.
Setting up a Facebook Ads Account
It is pretty easy to set up a Facebook Ads Account. First, you will need to create a Facebook Business Manager account. The next is to grant it access to your business. Next, you need to Give access to the Facebook page of your business to your Facebook Ads account.
The account can't be verified without a payment method and once you add it you will be able to create a Business FB account.
Using Looker Studio Connectors
Looker Studio has a gallery of connectors if you want to analyze data,, it is fairly easy, since Google has most probably a connector for it. Here we are looking at Looker Studio Facebook Ads.
Connecting Facebook to Looker Studio via Windsor.
ai
Windsor ai's Connectors are easy to install using two different options which we will go through in the following, let us now see how you can do it. You will easily see why Looker Studio is the best Facebook reporting tool.
Option 1: Connecting FB to Google Data studio Through Windsor.ai's Website:
1- Go to onboard and grant access to your Data source which in this case is Facebook ads as shown in the image below:
2- Press On Next(Data preview) on the bottom left of the page, then select facebook ads , and the metrics you would like to pull Data for as show in the image below
Ps: you can choose between  +200 fields and metrics
3- Select Press on Google data Studio as shown in the image Below:
4- You will be redirected to our google data studio connector(as show in the image below), you will need to authorize access and then press on connect:
You're all set, you can now start working your magic with your data, and now we will go through the second option.
Option 2: Connecting Facebook to Google Data studio Through Windsor.ai's X Google Data studio Connectors:
1- Go to Looker Studio's gallery of connectors and select Facebook ads
2- Click on authorize as shown below
This will lead to a pop up appearing, where you should grant access to your Facebook ads account.
3- Click on finish, and then on connect as shown below.
4- Your fields will appear, and finally now you can go through your data and start making beautiful dashboards.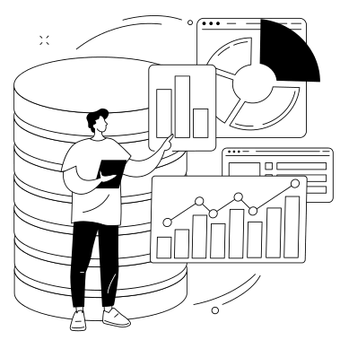 Try Windsor.ai today
Access all your data from your favorite sources in one place.
Get started for free with a 30 - day trial.
Start Free Trial
Is it possible to Connect Facebook Looker Studio without a connector?
So, one of the options that are at your disposal is to use static data. This way you can get Facebook Looker Studio without a connector.
If you upload CSV files into Looker Studio, you can turn GDS into a Facebook Ads reporting tool.
Looker Studio comes with an upload feature and using this feature you can analyse data that is not submitted via a connector.
In order to link Facebook Looker Studio this way, you will need access to the internet, an active Facebook Ads Manager account, and a Google account that is linked with Looker Studio.
You will need to have at least some experience with Looker Studio and the Facebook API.
Using CSV Files from the Facebook Ads Reporting Tool
Everything starts with the export of a Facebook Ads Report in the CSV (comma-separated value) format.
Select the specific campaign or campaigns that you would like to use and make sure that you check all the fields that you wish to analyze, columns, ads, and ad sets, and then click Export and then Export Table data.
The next step is to choose .csv as the file format and then click 'Export'. You can choose 'Export All' if you wish to download all data, or 'Export Selected' if you have a more specific request.
You can also select 'Customize Export' in which case you will be able to select all the options and columns that you wish to have in your report for analysis in google data studio search console dashboard.  
Creating a Data Source in Looker Studio
The next thing you should do is prepare the data set before you can export Facebook Ads data to Google Sheets. If you already have a Looker Studio account, you need to log into it, and create a Data Source. You should name it something that will be easily recognisable like Looker Studio Facebook data.
Then choose 'File Upload' where you will be able to basically connect your Looker Studio account to your Facebook data, kept in CSV files. You will need to give GDS authorisation to upload the Facebook data to the storage.
You can either click 'Upload Files', but it also comes with a drag and drop function, so you can do that as well. After this, you will be able to use Looker Studio as a Facebook Ads Reporting tool.
Limitations of Facebook Looker Studio without a connector
This is a method that allows you to connect Facebook Ads to Looker Studio without a connector, but there are some limitations. First of all, the maximum file size is 100MB and you can't make more than 100 uploads per day. Moreover, the total amount of data that you can upload is 2GB.
And that's the limitations in terms of space, there are some structural limitations as well – adding data to a data set doesn't result in a data merge, if you add double records, both will appear in the reports, thus skewing your data. You should also pay attention to the file structure – all files must be the same, otherwise, the data will be distorted.
We will now proceed with a walkthrough of the templates and the flexibility is one of the reasons why Looker Studio is an amazing Facebook Ad Reporting software.
Facebook Looker Studio Template Walkthrough
There is a general Facebook Looker Studio template that you get once you connect Facebook Ads to Looker Studio via the Windsor.ai connector.
However, you are free to customize it as you wish, it is possible to add charts and tables to your report, to create new reports, to make different versions of the same report and more.
Not only will Looker Studio present the data from your Facebook Ads Manager visually, making it a lot more presentable and useful for people who are not directly involved in the campaigns, but it also gives you the ability to perform more detailed analyses and recognise patterns and trends that might escape your eye.
Add Charts and Tables to Your Report
Charts are vital to reports and nicely placed, informative charts can make a huge difference. If you wish to add charts to your Facebook Looker Studio, you need to do the following. Go to "Edit your report" and then go to the page of the report where you wish to place the chart. Go to the toolbar and select "Add a chart".
Choose the chart that you want to add and then click the canvas. Now the chart is in the report and if you like you can move them around or resize the charts that you have.
There are different types of charts that you can add to your report – pie charts, bar charts, and many more. Once you've added charts into Looker Studio you can play around in the report, change styles, colours and make your report a lot more visual.
The process for adding tables to your report is pretty much the same, you just need to select a table after you select "Add a chart".
Filter the Data in Your Report for Facebook Campaigns
You can control the data that you export from Facebook Ads Manager, but it is also possible to filter the data in your Looker Studio report and the process is quite simple.
Go to edit your report, select the chart or charts that you wish to apply a filter to and then select the appropriate tab in "Properties". Click on "Create New Filter" and name it. It is also possible to use an existing filter. By selecting Include or Exclude you choose whether the data that meets the criteria is to be analysed or is to be excluded.
Then you can configure your filter and select the dimensions or metrics that are to be filtered. You can use comparison operators like greater than, smaller than, contains, etc. You can add an And or an Or clause as well. Finally, when you're happy with your filter criteria, click "Save".
It is possible to reuse old filters and edit and amend previously saved filters.
Customisation Options and other Advanced Settings in Looker Studio Facebook Ads
The level of flexibility and customizability is what makes Looker Studio the optimal Facebook Ad reporting software. Not only can you add charts and apply filters, you can also add fields to charts, switch chart type, and edit chart properties.
You can also add other components to the report, just utilise the icons that show on the toolbar and you will get the opportunity to add other components.
In addition to charts you can also add interactive elements like date ranges, data control and customise how the data is displayed in your reports.
You can also add other visual elements like text boxes, lines, circles, images and a lot more. Furthermore you can also add external content pieces like videos and other external web resources.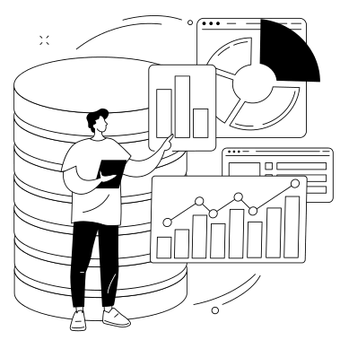 Try Windsor.ai today
Access all your data from your favorite sources in one place.
Get started for free with a 30 - day trial.
Start Free Trial
Facebook Ads metrics list and explanation
One of the greatest reasons why Facebook is such a useful and popular marketing tool is the fact that it comes with a wide range of metrics. The list is really long and diverse. So, we will go through each group of metrics and explain what they report on, and why they are important for the Facebook Ads reporting tool, in this case, Looker Studio Facebook.
See complete Windsor.ai's field list documentation here.
Performance metrics
It is pretty self-evident why these are the most important metrics. And we will start with the most important performance metric, which is of course – Results.
When we analyze results in Facebook Ads Looker Studio report we need to understand that a result is defined as the desired outcome of your campaign and the results metric shows the total number of times this result has been achieved. So the basic result is a total and not a percentage metric.
It is the most obvious metric, any boss or CEO will ask about it, but perhaps more important than measuring the results is setting up the right results metric. Different Facebook campaigns come with different goals and thus the result metric will reflect that.
In most cases, results will be tied to a conversion like leads, purchases, first-time depositors, etc, but if the campaign in question is an awareness campaign, you might look at visits or even impressions as a potential campaign result.
Conversions
Leads, website purchases, and leads that come through a form, also known as form leads are common results, but the so-called custom conversions are what interests most marketeers.
Namely, there are dozens of types of conversions and it all depends on the nature of the business and the services and products that it sells – so it can be downloads, subscriptions and all of these can be tricked by the Facebook pixel. 
Cost per result
One more advanced way of measuring the specific performance of a campaign is the cost per result. This will be quite useful if you export Facebook Ads Data to Google Sheets but also export data from other marketing channels.
That way you'll be able to compare the results of your Facebook campaigns with the results of the campaigns of the other channels and see how profitable Facebook is compared to your other marketing channels.
With the cost per result metric, the cost of the campaign is divided by the number of results, so you'll get a good understanding of how much each new customer costs for instance.
If you're using a clear conversion metric you'll know easily what would be the desired value of each customer for the acquisition to make sense from a financial perspective. Each industry has its own benchmarks when it comes to cost per result for particular custom conversions.
CPA
In many industries and/or particular campaigns this metric is known as CPA – cost per acquisition, which particularly stands for acquisition campaigns.
Then we have conversion rate, also known as result rate which compares the number of conversions to the total number of impressions. In other words, if an ad or a campaign had 100 impressions in total and five of them converted (became successful results) then the conversion rate of the campaign is 5%. What is a good conversion rate may differ.
Spend
Next, we have the metric that is of interest to every finance department – spend. And this is a pretty straightforward metric, it tells us how much a campaign, an ad or an ad set has spent over a given period of time, in other words, what is the cost.
While on its own it may not mean much, it is useful because every marketer usually works with a budget so this metric tells them what is left. Also, in conjunction with other metrics, it tells us pretty much everything.
The return on ad spend is the most profit-oriented metric, it basically tells us how successful a campaign has been. This metric, also known as ROAS tells us what amount or revenue have we received for every dollar that was spent on ads.
Now, this only works if your revenue is reported to Facebook. If you're getting it from another source, you can still use it to calculate your return on ad spend, or return on investment in conventional marketing, but you will need to import those numbers, use blended data view and have them into your reports.
Delivery metrics
The next section of performance metrics are the so-called delivery metrics and these include:
We've already mentioned them. Impressions represent the number of times your ad has been shown to your target audience. Impressions are not the same as reach, impressions give you the total number of times the ad has been seen, whereas reach is the number of people that have seen it.
Notice that someone might see it more than once. If there's a big discrepancy between impressions and reach, there might be something that's off with your campaign.
CPM is a metric that is a combination of two more basic metrics – cost and impressions. Or to be more precise, CPM tells you how much you have paid to get 1,000 impressions, i.e. how much it costs to get your campaign shown 1000 times.
This is a very indicative metric, and marketers like to compare current CPM with the one they got on campaigns a month or a year ago. A higher CPM is usually an indication that there's something wrong with the campaign.
Now the frequency is a very interesting metric. It tells you how many times a person has seen your ad. Regardless of how you set your target audience, there will be people who will see your campaign more than once.
The higher the number of people and the number of times, the higher the frequency will be. Higher frequency usually results in higher CPA, so if your CPA has increased it is useful to check the frequency.
If one potential customer sees the ad too many times, you are obviously oversaturating your audience.
Engagement metrics
Engagement as the word itself indicates how your readers engage with your campaigns, with your ads, and with your brand in general. Likes, comments, clicks, and shares are the typical metrics used to track engagement.
Now, this is really dependent on the type of campaign, but also the industry and your general audience.
If you're doing more organic and natural Facebook or you are more focused on an organic audience, you are likely to get more engagement, but that also depends on the industry. If your niche is more technical you won't get a lot of engagement, but that is fine.
Page posts metrics
These metrics are less important if you're looking into Facebook Looker Studio and more important if you're doing organic Facebook. These metrics are only available if you're doing posts and have over 100 likes on your page. So, if you're doing just Facebook Ads Looker Studio this might not be the most relevant type of metrics for you.
Messaging metrics
Since a while ago it has been possible to run ads and campaigns on Facebook messenger. Now, what does this mean if you're a Facebook marketer? Well, it means simply that you can measure the success of your marketing attempts on Messenger.
For instance, if you have spent thousands on Messenger ads and you had only two Messenger conversations started as part of the campaign, then perhaps that isn't a successful campaign.
Clicks metrics
This is a very specific type of Facebook metric. It tells us not how many people have seen an ad, not how many people have converted as a result of it, but rather how many people have clicked on it.
To put it as simply as possible, a click is more than an impression but less than a conversion. So, if you measure impressions you'll know how good the setup is, if you measure impressions vs conversions you'll know how enticing the offer is and how well your ad matches the customer intention, but the clicks tell you how enticing your ad is, both visually, as well as verbally.
If your click metrics are good, but you fail on conversions, then maybe it's the offer that's just no good.
Awareness metrics
These are perhaps the most specific metric. It may seem like they don't show anything exactly, but that's not the case. Brand awareness simply means – how familiar your customers and potential customers are with your brand. The goal here is to show the ad to someone who is more likely to remember it and recall your brand. These metrics can be great indicators of your future success.
Breakdowns or dimensions
Facebook is also capable of breaking down your campaigns per different parameters. So, for instance, it can show you which ad or ad set has been the most successful one in a given ad set, or a campaign, respectively. In general, you should not take these things for granted, but they are a pretty strong indicator of things.
Free Looker Studio templates for Facebook Ads
We have free Facebook Looker Studio templates and this can prove to be very successful if you're new to analyzing Facebook results in Looker Studio.
Conclusions
If you are using Facebook Ads Manager the data is there, but it is not always the perfect tool to analyze it, so using our connector you can export that data to Looker Studio where you can put it into charts, filter it, use other visual elements to make the most of it.
There is a way of connecting Facebook Looker Studio without a connector, but it comes with limitations. In this full guide we go through the detailed steps of the two options – with and without a connector, so you can see for yourself which options seem more viable to you.
In this page  you will find all the fields & metrics available with Windsor.ai's Facebook ads Connector.
You might also like to read:
How Do You Tag Facebook Ads For Google Analytics?
Looker Studio Google Ads vs. Facebook Ads Dashboard Template