The best Improvado competitors in 2023 are Windsor.ai, Supermetrics, Adverity, and Datorama.
If you are a modern marketer, you make decisions based on data. With data in performance marketing the problem is that it's fragmented.
Chances are that you are wasting a lot of valuable time on manual data aggregation. This is not exactly time well spent.
That's where tools like Improvado help. Although Improvado provides unique data visualization technologies, consumers may choose to use other platforms because of limited custom tab creation.
In this article, we're reviewing four alternatives to Improvado: Windsor.ai, Supermetrics, Adverity and Datorama.
Table of content
Improvado Overview
Improvado is a marketing data aggregation and visualization platform that helps businesses collect, unify, and visualize their marketing data from various sources. It offers a centralized solution for gathering data from multiple platforms, such as advertising platforms (Google Ads, Facebook Ads, etc.), analytics tools (Google Analytics, Adobe Analytics, etc.), CRM systems, and more.
The platform provides pre-built connectors and APIs that enable users to seamlessly integrate their marketing data sources into Improvado's system. It automates the data extraction process, allowing marketers to access up-to-date and accurate data in real-time.
The main message for improvado is to help marketers to integrate all their data and visualize it in the tool of choice.
The setup process is indeed clear and fast.
Improvado Features
Improvado's main feature is the integration of all your data sources. The data can be stored with Improvado itself or in a Postgres or Google BigQuery database. For the visualization of the data you can either use Improvados built in charts and tables or your BI tool. The number of supported BI tools as of this writing is 13. The list contains the most used platforms like Looker Studio, Power BI, Tableau and Looker. In case you prefer spreadsheets there is full support of Google Sheets and Excel.
Currently there are more than 180 connectors available with some on request only. If you don't have a too exotic setup, chances are high that you will find exactly what you want.
Another feature worth mentioning is that they allow their dashboards to be white labeled. This gives it an additional plus point if you work for an agency.
Feature Summary:
Data integration and ETL with 500+ data sources
Data blending from different sources
Own dashboards as well as external dashboards like Looker Studio and Power BI
Support is available via chat or phone
Improvado Pricing
Currently pricing is not shared on Improvados website. The only way to understand the pricing is by talking to a sales. This might be a bit annoying especially if you don't like to talk to someone before trying out a product.
Improvado Rating

Improvado has a very good rating on G2 with an average score of 4.5 out of 5. Reading through the reviews there seem to be a lot of happy users and customers.
Some times there is a mention that not all features are there but the Improvado team seems to add of the requested features.
The only real downside to Improvado is the fact that you will need to talk to a sales rep.
Why Do Companies Look for Alternatives to Improvado?
There could be several reasons why someone might look for an alternative to Improvado or any other marketing data aggregation platform. Here are a few possible reasons:
Cost: Improvado or similar platforms might be expensive for some businesses, especially smaller ones or those with limited marketing budgets. Looking for alternatives can help find more cost-effective options that still meet their data aggregation and visualization needs.
Feature Set: Every marketing data platform offers different features and capabilities. If Improvado lacks specific features that are crucial for a business's data integration or visualization requirements, they may seek alternatives that better align with their needs.
Scalability: As a business grows and its marketing data requirements become more complex, the existing platform may not be able to handle the increased data volume or integration needs. Seeking an alternative that offers better scalability can be a valid reason.
User Experience: The user interface and ease of use can significantly impact a business's productivity and efficiency. If users find Improvado's interface cumbersome or challenging to navigate, they may explore alternatives that offer a more intuitive and user-friendly experience.
Integrations: Businesses often rely on multiple marketing and advertising platforms, each with its own data APIs and integrations. If Improvado lacks integrations with specific platforms that are essential for a business's data collection, they may search for alternatives that provide a broader range of integrations.
Support and Reliability: If a business experiences issues with the support or reliability of Improvado, such as slow response times, frequent downtimes, or lack of timely updates, they may consider switching to an alternative platform that offers better support and reliability.T
Best Improvado Alternatives in 2023
If you're looking for alternatives to Improvado, a marketing data aggregation and visualization platform, here are a few options you can consider:
Windsor.ai
Buying advertising and marketing platforms is not precisely hard work. Besides buying advertising and marketing software, obtaining insights is actually the hard part. Windsor.ai aims to resolve this often unanswered issue.
Windsor.ai Features
Windsor.ai is significantly more than an ETL tool. It provides a data-driven attribution model. This means that you can combine advertising and marketing analytics data to understand the impact of each touchpoint on outcomes. Additionally, you can also connect your CRM system to understand customer lifetime value and customer acquisition costs.
You are likely acquainted with the typical last-touch attribution model which comes with Google Analytics.
It usually works quite well for a start. Advanced marketers want to understand the value of each touchpoint instead of only the last one. That's where multi-touch attribution comes in.
If you want to connect CRM data to comprehend the impact of your online marketing tasks on CRM outcomes this is impossible with Google Analytics. For most instances where the media buy starts to be more complex and is split over several channels, a multi-touch model is the way to go.
Feature recap:
ETL (Extract,Transform, Load) functionality
Cross-platform data blending
Dashboards
Email and live chat support
Windsor.ai Pricing

Windsor.ai's pricing starts free and allows you to connect as many data sources as you want either via API or it's user interface.
Multi-touch attribution is available for all plans. Windsor.ai offers a 30-days free trial and a free plan for the ETL functionality.
Windsor.ai Reviews
On G2, Windsor.ai has a 5/5 rating based on 38 public reviews. It is a robust ETL solution, and people don't complain about it.
Windsor.ai vs Improvado
Both platforms are very similar with two exceptions:
Windsor.ai offers a data-driven attribution model as part of its package
Windsor.ai has a free trial and transparent pricing.
Connector wise Improvado seems a bit better equipped, so if you have a media buy on a channel which is not supported by Windsor.ai, it's worth double-checking if Improvado has it.
If you have the time and energy to talk to a sales it's in our opinion worth giving both products a closer look.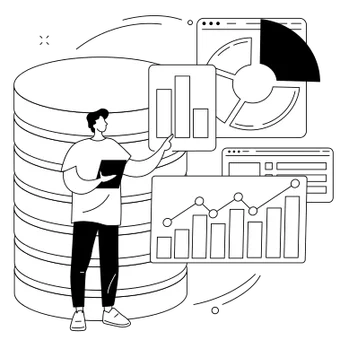 Try Windsor.ai today
Access all your data from your favorite sources in one place.
Get started for free with a 30 - day trial.
Start Free Trial
Datorama (by Salesforce)

Datorama is an analytics and data visualisation platform which allows marketers to extract, transform and visualize all their marketing data. It offers many connectors and integrations (sadly the whole list is not public). Datorama has been acquired by Salesforce in 2018.
Datorama Features
Datorama's platform is an all in one data visualization and ETL (extract, transform and load) platform. They have their own terminology for ETL and call it data harmonization. All data and dashboards are hosted by Datorama.
On top of that there is also an App store where plugins for Datorama can be installed. It's not really clear how big the app ecosystem is. Both the list of the apps as well as all the support pages require a login.
Reading through the website it's clear that this software is more geared towards traditional and large organizations.
Understanding the specific features from the site duplicate is instead high level.
Feature recap:
Integration to >400 sources (list not found)
Data warehouse and hosting
Data visualization built-in
Insights & Activation engine
Datorama Pricing
Dataroma has different pricing plans. The different tiers have a different user as well as row count included. As soon as the row or user count exceeds what is included in the selected tier add-ons have to be bought. Based on the review they do not provide a free trial.
Datorama Rating
Datorama has a 4 star score based on 117 reviews on G2.com. Most of the testimonials are positive.
For this company as well as many otheron G2 there is a repeating topic: Why is the pricing based on rows? It appears to not reverberate so well with the customers as they need to erase old data if they don't want to pay more. This means that they have to fork out money if they want longer date-ranges to be available.
Datorama Rocks! In conclusion, they have a pretty good fan base out there with many users relying on the item.
Supermetrics
Supermetrics is an ETL tool that retrieves data from all your marketing and advertising sources. You can save the data in your data warehouse, a spreadsheet or directly visualize it in your BI tools.
The tools which Supermetrics connects to are marketing and analytics related (Paid media, SEO, Analytics and CRM).
Supermetrics Features
In contrast to the other tools listed here Supermetrics treats each connector as an own product.
Supermetrics positions the Looker Studio, Google Sheets and Microsoft Excel most prominently. The more technical products like the API, Google BigQuery Integration and the costs uploader are in the second row.
There is not too much information about the product itself. What is clear is that there are lots of templates to get the potential user started right away.
Comparing to Supermetrics alternatives like Datorama for example the goal really is to nail the data integration piece. There does not seem to much focus on data transformation and data visualization. This is expected to be handled outside the Supermetrics  product.
Feature recap:
ETL (Extract, Transform, Load) functionality
Cross-platform data blending
Email & Forum assistance
Supermetrics Pricing
Comparing to the platforms reviewed above, Supermetrics is on the lower end of the spectrum. But it also seems to be quite tricky as its so modular. If you start with one connector and want to add on additional connectors you will have to pay for it. It's challenging to choose pretty much.
This leaves you with quite a few variations on how to pick and mix the right license. For a simple setup, the pricing is straightforward. However, with more complex requirements, it'll be more complicated.
The price for Supermetrics depends on the final destination, the number of data sources, the number of accounts per data source, and the users.
For example, the Essential plan for Supermetrics for Excel is $69 per month, billed annually. For this price, you get just 7 predetermined data sources and 5 accounts per data source, weekly automated refreshes, and a space for one user. Any additional data source will come at a price of $29/month. Thus, Supermetrics becomes expensive real quick.

Another problem with the pricing of Supermetrics is that, even if you only want to use just a few of its features, you still have to pay the full price.
They have many variations of the product you can buy. It gives you the flexibility to choose what to pay for, but it also can be hard and expensive to get everything you need.
Supermetrics also offers a 14-day free trial, but you need to choose your destination first.
Supermetrics offers quite a flexible pricing, which especially for a smaller setup can be good. The downside is that it gets complex quickly.
Supermetrics Rating
Supermetrics ranks at 4.5 out of 5 stars on G2 based on 596 reviews and the majority of their clients are happy. It appears to do the work rather well. Some fo their clients have a few critical points:
The customer support is difficult to get hold of
The initial setup is complex and complicated to set up
The pricing is complex too (see pricing)
Just recently there likewise have actually been testimonials from earlier customers which are dissatisfied with the brand-new pricing (evidently it was raised).
Adverity Overview

Adverity is a data integration and data visualisation software. It let's you load data from all your advertising and marketing sources and visualize it in it's own platform. If you prefer to use your own BI tool it also supports tools like Looker Studio, PowerBI and Tableau.
They offer integrations to more than 600 sources as of June 2023.
Adverity Features
Adverity has three pillars in it's offerings:
Integration of data source
Integration of data warehouses (or data destinations as they call it)
Visualisation of data in 3rd party systems
Judging from online reviews it appears like they focus on offering dashboards as well as data integration. However, on the internet site it appears like the focus is changing to only data integration.
We see that they have lots of integrations which they connect to a data warehouse. After this, you can consume the data in any business intelligence tool they support.
To sum up the features:
Connection and integration of all online marketing data
Transformation of data and storage in data warehouse of choice
Streaming of the data to a data visualization platform of choice
Adverity Pricing
That's where it looks similar like with Improvado: a bit challenging.
To sum up the pricing:
Based on a mix of the variety of data sources which are connected, the number of accounts form each source and how you visualize the data>
Adverity Rating
Adverity has a 4.4 star score based on 203 reviews on G2.com. Most of the testimonials are positive.
Summary: Best Improvado Alternatives
Overall, Improvado aims to streamline the process of collecting, unifying, and visualizing marketing data, empowering businesses to make informed decisions, optimize their marketing strategies, and measure their ROI effectively.
With this article, you are now familiar with Improvado and its alternatives designed for marketing intelligence. So you can compare the features of these platforms and decide which tool best suits your needs.
Remember to consider your specific goals, data sources, data transformation capabilities, reporting and visualization requirements, as well as the level of support and reliability provided by each alternative. This will help you make an informed decision and choose the solution that will be the most effective and suitable for your marketing data consolidation and reporting needs.
If you're searching for a user-friendly and effective tool, check out Windsor.ai. We offer a 30-days free trial. Sign up for free right now!
Read also:
Google Data Studio vs Power BI: An In-Depth Comparison
Top Funnel.io Alternatives in 2023
Supermetrics vs. Funnel.io: Complete Guide for 2023
Easily Connect BigQuery to Snowflake
Easily Connect BigQuery to Tableau
Easily Connect BigQuery to Excel
Power BI BigQuery Connection in 2023
Connect Google Sheets data in BigQuery in 2023
Supermetrics vs. Fivetran: Complete Guide for 2023
Adverity vs Supermetrics: Which is Right for You in 2023?
Supermetrics vs. Whatagraph Comparison
Supermetrics vs. Coupler.io: Overview and Comparison
Supermetrics vs. Stitch Comparison