GA4 Connector
Integrate GA4 metrics into your favorite data destinations with Windsor.ai in an easy-to-use format
About Google Analytics 4
Google Analytics 4 is next-generation measurement solution, and it has replaced Universal Analytics. Starting on July 1, 2023, standard Universal Analytics properties will stop processing new data. To maintain your website measurement, you'll need a Google Analytics 4 property.
The new Google Analytics collects event-based data and allows marketers to effectively analyze important customer usage metrics, not just track traffic. While GA4 surfaces cross-platform insights, it also offers a privacy-centric approach.
How to export GA4 data in 2023?
Do you plan to connect and visualize your GA4 in data visualisation, data storage, data warehouse or BI tool?
Follow the Tutorial Below:
Step 1:
You need to select GA4 as a Data Source and grant access to Windsor.ai.
Step 2:
Select the fields on the right to later use in your data source. For example, you can include metrics such as Cost per Click, Cost per Action or Total Spend.
Step 3:
Select a destination to get GA4 data into
Google Analytics 4 Pros and Cons
GA4 pros:
Improved data privacy: GA4 includes a number of features designed to protect user privacy, such as automatic masking of IP addresses, support for cookie-less tracking, and the ability to disable tracking for specific users.
Machine learning capabilities: GA4 includes a range of machine learning tools, such as the Forecast function and anomaly detection, that can help you make predictions about future trends and identify unusual patterns in your data.
Enhanced cross-device tracking: GA4 includes improved cross-device tracking capabilities, which allow you to see how users interact with your website and apps across different devices.
Enhanced event tracking: GA4 includes a new event model that allows you to track a wider range of events, such as pageviews, clicks, and form submissions, and to set up custom event parameters to track more specific details about user interactions.
Improved integration with other Google products: GA4 is closely integrated with other Google products, such as Google Ads and Google Cloud, which can make it easier to use GA4 in conjunction with these products.
GA4 cons:
Limited backward compatibility: GA4 is a new platform that is not fully backward compatible with UA, which means that some features and functionality that are available in UA may not be available in GA4. For example, GA4 does not support some UA features such as custom variables, and some UA reports and features may not be available in GA4.
Lack of support for some third-party tools: Some third-party tools that are compatible with UA may not be compatible with GA4, or may require additional work to integrate with GA4.
Complexity: GA4 includes a wide range of features and functionality, which can make it more complex than UA for some users. This may require more time and effort to learn and use GA4 effectively.
Limited support for older browsers: GA4 does not support some older browsers, such as Internet Explorer, which can limit the ability of users with these browsers to access GA4.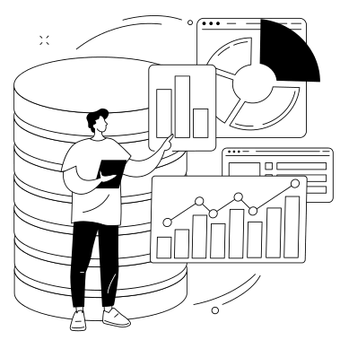 Try Windsor.ai today
Access all your data from your favorite sources in one place.
Get started for free with a 30 - day trial.
Start Free Trial
Data Destinations for GA4
FAQ about GA4 integration via Windsor.ai
Why choose Windsor.ai's Google Analytics 4 connector?
In the last few month there has been a lot of commotion about the Google Analytics quota limits and how to get around them, but before we get to that let's first learn what are these limitations:
Maximum number of hits per property per day: GA4 allows a maximum of 10 million hits per property per day. A hit is defined as any request to the GA4 servers, such as a pageview or event. If you exceed this limit, GA4 may discard some of your data to stay within the quota.
Maximum number of events per hit: GA4 allows a maximum of 20 custom events per hit. If you exceed this limit, GA4 may discard some of your events to stay within the quota.
Maximum size of a hit payload: GA4 allows a maximum hit size of 8 KB. If you exceed this limit, GA4 may discard some of your data to stay within the quota.
Maximum number of user properties per property: GA4 allows a maximum of 25 user properties per property. User properties are custom dimensions that you can use to segment your data. If you exceed this limit, you may need to consolidate or remove some of your user properties.
With Windsor.ai you will not have to face anything of this limits and issues, because once you connect you Google Analytics 4 Data using Windsor.ai's tool, your data will be cached and can be retrieved at any time without hitting any quota limits or issues.
How much does it cost to integrate GA4 with Windsor.ai?
Pricing for GA4 can vary depending on your use case and data volume. Windsor.ai offers transparent, volume-based event pricing. Check Windsor.ai's pricing.
Extract All Your Marketing Data from GA4
See the value and return on every marketing touchpoint
Providing 50+ marketing data streams, we make sure that all the data we integrate is fresh and accessible by marketeers, whenever they want.

Spend less time on manual data loading and spreadsheets. Focus on delighting your customers.
Similar connectors to GA4