Let's take Dataslayer for a spin and see how this PPC reporting tool can help businesses make data-driven decisions.
Table of contents:
What is Dataslayer.ai?
Dataslayer.ai is an reporting tool for PPC/SEM that integrates with Google Sheets, Google Looker Studio, API with BI tools (like Qlik, Tableau, Power BI), as well as Google BigQuery. It facilitates the extraction of data from various online platforms, allowing for streamlined and simplified reporting for digital marketing professionals. Dataslayer.ai is often considered as a viable alternative to SuperMetrics, a well-known data reporting tool in the industry. The tool is particularly beneficial for those involved in paid digital marketing campaigns, providing a more efficient way to track and analyze performance metrics across different advertising platforms.
DataSlayer, like other marketing automation tools, utilizes third-party APIs. It collects data from various sources, consolidating it into a single dashboard to generate user-friendly and compelling reports.
Dataslayer.ai supports integration with over 45 PPC/SEM sources, enabling users to collect data from various platforms and consolidate it for reporting purposes.
Key Features of Dataslayer.ai
The tool automates the process of creating PPC reports in Google Sheets, saving time and effort for digital marketing professionals.
Dataslayer.ai leverages third-party APIs to collect data from different sources and present it in a unified dashboard for easy analysis.
Users can create customized dashboards tailored to their specific needs, allowing them to focus on specific channels or campaigns.
Dataslayer.ai offers various pricing plans to cater to the needs and budgets of different agencies, making it accessible for both smaller teams and larger enterprises.
Users can import manual data into their reports and export reports in PDF or Excel/Google Sheets formats for easy sharing and viewing.
Users can apply custom formulas to reports and blend data from various digital marketing channels into a single dashboard.
Dataslayer.ai Pricing
By charging based on API usage rather than per user, data source, and account, Dataslayer.ai provides a more flexible and cost-effective solution for businesses and agencies with varying reporting requirements. This approach ensures that users have the freedom to access and integrate data from multiple sources without incurring additional charges for each user or data source. It's a user-friendly pricing model that aligns well with the diverse needs of digital marketing professionals.
You can find information about Dataslayer Pricing here.
For Google Sheets and Looker Studio
Free trial: 15-day free trial
Freelance plan: $29/mo
Small agency plan: $59/mo
Medium agency plan: $99/mo
Large agency plan: $299/mo
For Google BigQuery and API Query Manager
Free trial: 15-day free trial
Standart plan: from $355/mo
Unlimited plan: You will need to talk to their sales team
Dataslayer.ai Rating
G2.com: 4,8 of 5 (168 Reviews)
Producthunt 5 of 5 (14 Reviews and Ratings)
Capterra: 5 of 5 (14 Reviews and Ratings)
Dataslayer.ai Support
DataSlayer.ai provides multiple ways for contacting their support team, including phone and email. Additionally, their support page on their website serves as a valuable resource, allowing users to ask questions, submit requests, and access existing articles that address various issues encountered by previous clients.
Is Dataslayer.ai safe?
Dataslayer does not retain your data, including your campaign's performance metrics or any information fetched via Dataslayer.ai. Their employees do not have any access to this data. Access is only granted at the user's request for issue resolution, and it is strictly limited to queries without direct data access. Additionally, such access is closely monitored and regulated.
Dataslayer does not share any data or reports with third-party companies. Dataslayer.ai exclusively connects to marketing and ad networks through official APIs. All data transmissions are conducted via SSL encrypted connections.
When you log in to a specific network (such as Facebook ads) to import your data, you do so through the official login/authentication form provided directly by the vendor. As a result, Dataslayer neither store nor have visibility into your username/password details.
Pros and Cons of Dataslayer.ai
Advantages:
DataSlayer.ai streamlines the process of creating PPC reports in Google Sheets, saving time and effort for digital marketing professionals.
The tool supports integration with over 45 data sources, providing users with a comprehensive view of their advertising data.
 DataSlayer.ai offers various pricing plans to accommodate the needs and budgets of different agencies and professionals.
 It leverages third-party APIs for data extraction, allowing for seamless integration and reporting from various platforms.
Dataslayer can even collect metrics that Supermetrics can't, such as Google Ads experimental campaign metrics.
DataSlayer.ai offers many Google Sheets and Looker Studio Templates.
Disadvantages:
While accessible on mobile devices through web browsers, the usability experience may not be as seamless as on desktop devices.
The tool may not offer round-the-clock customer support, which could be a consideration for users in different time zones or those who require immediate assistance.
Users may encounter difficulties when inserting large volumes of data into the tool.
Top 7 Dataslayer Alternatives
Advantages of using Windsor.ai 
Side-by-side product overview: Dataslayer vs Windsor.ai
| | Windsor.ai | Dataslayer.io |
| --- | --- | --- |
| Free trial |  Yes |  Yes |
| Data Source Integrations | 76 | 43 |
| G2 review score average (1 to 5 stars) | 4.8 | 4.8 |
| All connectors available on all pricing tiers | Yes | Yes |
| Paid plans starting from | $19/month | $29/month |
| Free forever plan | Yes | Yes |
| Unlimited users on all plans |  Yes | Yes |
| Use of all destinations with all plans | Yes | No |
| SOC2 Type 2 compliant | Yes | No |
| Single sign on/MFA | Yes | No |
| Looker Studio connectors | 66 | 31 |
| Power BI and Tableau connectors | Yes | No |
| Google Sheets plugin | Yes | Yes |
| Excel integration | Yes | No |
| API access starting price | $19/month | $355/month |
| Pricing not based on row counts | Yes | No |
| Starting price BigQuery data transfers | $19/month | $355/month |
| PostgreSQL data transfers | Yes | No |
| MySQL data transfers | Yes | No |
| Snowflake data transfers | Yes | No |
| Amazon S3 data transfers | Yes | No |
| Azure SQL/blob storage data transfers | Yes | No |
Windsor.ai is an analytics and attribution platform that specializes in marketing data integration, analytics, and reporting. However, the place where Windsor.ai shines is marketing attribution which is the only reliable way to track the real-world performance of your marketing efforts.
Integrations with data visualization platforms like Looker Studio, Power BI, Big Query, SnowFlake, PostgreSQL, MySQL, Google Sheets, Excel, Azure MS SQL, Tableau, Python, Amazon S3, Azure Blob Storage, etc.
Forever Free Plan

SOC 2 Type 2 certified, supports single sign on and multi factor authentication
We won't convince you to purchase a plan, but at least give it a try for 30 days for free, and you'll see the benefits we could bring to your team.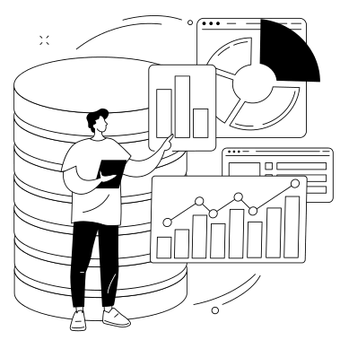 Try Windsor.ai today
Access all your data from your favorite sources in one place.
Get started for free with a 30 - day trial.
Start Free Trial
FAQ
Who uses DataSlayer.ai?
Dataslayer.ai provides paid services for digital marketing tools and campaigns. This means whether you're an individual digital marketing professional or part of a large marketing agency, you can use DataSlayer.
Is DataSlayer.ai for Free?
Yes, you can avail a free trial of DataSlayer.ai for a duration of 15 days. Afterward, you can consider opting for one of their paid plans if it meets your requirements.
Does Datalsayer.ai have an affiliate program?
Yes, you can find information about their affiliate program here.
Is Dataslayer.ai a public company?
Dataslayer.ai is a private company and does not have an official ticker symbol on any public stock exchange.