You need a Looker Studio SEO template if you do SEO campaigns. Search engine optimization (SEO) is key to website visibility for organic traffic, clicks, and conversions. When running an SEO campaign, you need to create SEO reports to track SEO KPIs metrics to know whether or not your SEO efforts are improving your site performance.
Thankfully, tools like Looker Studio allow users to create SEO dashboards easily. A Looker Studio SEO template can help you visualize your SEO metrics and KPIs, giving you an overview of your SEO campaign.
This guide will tell you everything you need to know about Looker Studio SEO dashboards.
Specifically, we'll discuss:
What is an SEO 

dashboard

Looker Studio
Looker Studio SEO Reporting Dashboard

What you can do with Looker Studio
Prerequisite for using Looker Studio

Determine your SEO KPIs

Steps for using Looker Studio SEO Dashboard
Log into Looker Studio

Connect to a data source

Add another data source

Add a Chart
Looker Studio SEO Dashboard Overview

Limitation of SEO Dashboard Looker Studio
Table of content
What is an SEO Dashboard?
Search Engine Optimization (SEO) is increasing the visibility of your website or webpage in organic search engine results to maximize the number of visitors to the site.
SEO aims to generate content that search engines recognize as valuable to users searching for information online. Know that if search engines rate your site's content, your site is ranked high in search results, and the higher your position in the search results, the more people will see it and visit.
On the other hand, a dashboard is a visual display of several data sets to provide information on KPIs at a glance.
An SEO dashboard helps you visualize SEO metrics to know the performance of your SEO campaigns. With SEO dashboards, you'll see at a glance and understand key metrics like top converting keywords, organic website traffic, top-performing web pages, web pages that need optimizing for search, etc.
When you create SEO reports that help you view one or more SEO metrics on one worksheet, you have an SEO dashboard.
Challenges of Using Looker Studio
Looker Studio is a data visualization and reporting tool developed by Google. It allows you to convert your data into interactive reports and dashboards that inspire smarter business decisions.
While Looker Studio helps you to pull data from different sources, visualize your data, and share your insights with others, using it comes with many challenges. Some of the challenges of using Looker Studio are:
It has a steep learning curve

Data discrepancies occur when integrating with non-Google products

It does not support Excel

It has limited data processing capabilities
It has a steep learning curve
Looker Studio is a simple-to-use visualization tool. However, it's easy only when you use it for basic SEO reporting. When entering advanced SEO reporting, using Looker Studio can become trickier. You may even need third-party plugins to generate more intelligent reports.
Data discrepancies
While Looker Studio integrates well with Google suites, it could do better when integrating with outside sources.
As a result, when you combine data from multiple data sources, you are likely to experience some data discrepancies. Data from Google sources like Google Analytics or Google Search Console may not look the same as data from Partner connectors like HubSpot or Facebook Ads.
It does not support Excel
Since Looker Studio is a Google product, it does not support the popular Microsoft Excel. To use data in Excel, you need a workaround, which involves converting the Excel file to a CSV file or a Google Sheet.
It has limited data processing capabilities
Looker Studio lacks advanced data processing capabilities compared to other data visualization and BI tools. For example, Looker Studio lacks the SUMX feature used to sum columns and rows.
It does not allow creating unions across all data sources when using blended data to create calculated fields. Thus, to minimize the complexity of your data processing needs in Looker Studio, you need to do data blending and similar data prepping in Google Sheets before pulling your data.
Prerequisites for creating Looker Studio SEO dashboards
To start using SEO dashboards in Looker Studio, you need the following:
A Looker Studio account.

Be in one of the supported countries.  
For the supported countries, Looker Studio is supported in many countries of the world. It's unsupported in only a handful of countries – The People's Republic of China, Iran, Iraq, Crimea, North Korea, Syria, and Cuba.
Determine your KPIs (Key Performance 
Indicators
)
Regarding search engine optimization, there are many metrics and KPIs to track and measure.
The particular SEO KPI you should be interested in will depend on your services and SEO goals.
For example, suppose you run an international SEO campaign. In that case, the "country" SEO KPI is necessary to track organic traffic trends and how SEO traffic converts in the countries you are targeting. However, if you run a local SEO campaign, you will be more interested in your search performance locally and less interested in the "country" KPI.
Also, if your goal is to determine the performance of your partnerships, then tracking the "incoming links" and "referring domains" SEO KPIs is necessary.
That said, a typical SEO reporting template would include the following key performance indicators:
Impressions
Impressions are the number of times your website shows up on SERPs (search engine result pages), so it is a must-have metric in any SEO reporting template.
An impression does not mean the user clicked on and visited your page. An impression counts every time your site shows up in the result when a user enters a search query.
Though impressions do not translate to site visits, it is one of the first things to look for when assessing the success of SEO campaigns because, without impressions, there would be no clicks for site visits and conversions.
The impressions of your link determine how much organic traffic you will have. If your content does not appear in search results, users will not see it, and you will not get clicks.
Also, appearing on SERPs means that the search engine crawlers understand your content, particularly the keywords you are targeting. It also means that search engines know when to promote your content.
Keywords
Developing a list of keywords is one of the first and most crucial steps in search engine optimization, and knowing the performance of your keywords is important in determining the success of your SEO campaign.
A keyword is an idea that defines your content. If you can compress your content into simple words or phrases, those are your keywords.
Regarding search engine optimization, keywords are the words users enter into search engines. If you have relevant keywords in your content, you are more likely to appear in search results.
In an SEO reporting template, the "keywords" KPI will show you the keywords driving traffic to your website. It helps you to optimize your content for more qualified traffic.
Average position
The position of your website in search results determines how much traffic you'll get from search engines. The "average position" KPI helps you analyze the relative ranking of the position of your links in searches.
The average position of your site represents your organic search rankings. Showing in SERPs (search engine result pages) is not enough. It is equally important that you appear in the top positions in the search results. So the best SEO reporting template must include the "average position" KPI.
Know that 75% of internet users do not scroll past the first page of search results. So, if you want people to see your content, you can't afford to rank on the second, third, or other pages of search results.
Even when on the first page, you need to show higher up. Showing up in the top positions means that the search engine sees your content as higher quality or more relevant than your competition's content.
Thus, a Looker Studio SEO report template should be able to help you visualize and track your average position.
Total clicks
The ultimate goal of search engine optimization is to get users to click on your link in search results and visit your website. Total clicks are the number of times people using search engines click on your website on the search results.
Tracking "total clicks" help you understand bottlenecks in your SEO campaign. If the above metrics (impressions, keywords, and average position) show improvement, then total clicks should show improvement. But if it doesn't, it tells you to make your content titles or meta description more interesting so that users will click on your link on the SERPs.
Click-through rate (CTR)
The Click-through rate tells you how relevant users who are searching for information find your link to be. A high CTR shows that users find your links highly relevant, and a low CTR shows that users do not find your links very relevant.
The Click-through rate measures your total clicks relative to your impressions – the percentage of impressions that resulted in a click.
Assuming you have 1,000 impressions, if you get only one (1) click, your CTR is 0.1%. But if you get 20 clicks, your CTR is 2%.
CTR is one of the most important SEO KPIs to measure because it is a ranking factor in search engines' algorithms, including Google's.
The goal of search engines is to give users links relevant to their search queries, starting from the most relevant. So, if your link has a high CTR, the search engine sees it as relevant to users and will show it higher in its ranking. But if your link has a good ranking but posts a low CTR, the search engine sees it as  irrelevant to users, and it goes down in the rankings.
The CTR metric helps you visualize the links that your link gets relative to its impressions, giving insight into meta tags like URL paths, page titles, and meta descriptions. Thus, CTR is an important metric to track when you create SEO reports.
Country
International SEO is a must if your site caters to a global audience. Interestingly, to understand the effectiveness of your geo-specific SEO campaigns, it is necessary that your SEO reporting template also track the countries that your traffic comes from.
Different practices are used in international SEO, including dedicated URLs for each localized content variant, country-specific keywords, language-targeted web pages, the hreflang attribute, etc. To know the effectiveness of these international SEO practices, you need to track the number of visitors per country.
Visualizing the "country" metric helps you know what international SEO technique is working and which isn't, and tells you what to tweak to make your website popular internationally.
Device Type
The "device type" SEO metric helps you visualize the devices that your site visitors use so that you can optimize your site to maximize traffic and conversions.
People may use a desktop, mobile, or tablet device for the search queries that get them to your site. Knowing the devices that searchers use in arriving at your site matters because it gives valuable insight.
It tells you whether you are missing out on some traffic because your site is not optimized for particular devices.
For example, more web traffic now comes from mobile devices than other devices. The current web traffic stats  show that 59.77% of web traffic comes from mobile devices as opposed to 37.96% from desktops and 2.27% from tablets. Thus, meager mobile traffic may signal that your website is not optimized for mobile devices.
Another important metric related to device type is "conversions per device type." Tracking this metric shows you the effectiveness of your CTAs and action buttons relative to the different devices. It can help you optimize these elements for more conversions.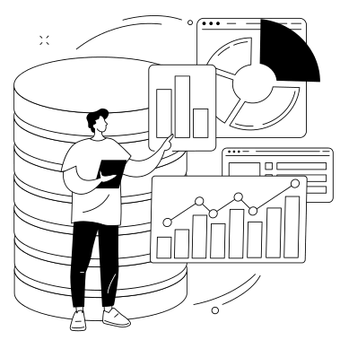 Try Windsor.ai today
Access all your data from your favorite sources in one place.
Get started for free with a 30 - day trial.
Start Free Trial
Steps for using Looker Studio
You need a Google account to log into Looker Studio and explore the Looker Studio dashboard. You may use the same account as your Analytics, Google Search Console, etc.
After logging in, you'll find that the dashboard is similar to Google Docs, Sheets, or Drive.
The "Reports" tab is where you can access all your reports. The "Data Sources" tab is where you'll find the connections you created between Looker Studio and your data sources.
The "Explorer" tab lets you tweak a chart without modifying the report used in making it.
That said, to start creating SEO dashboards and reports using Looker Studio, implement the following steps:
Step 1: Click "+ Create" to start a report
To connect to a data source, move to the top of the right-hand side navigation panel and click the "+ Create" button.
Step 2: Click "Data Source"
Then click "Data source" on the window that pops up when you click create.
Then you can connect to about 23 Google Connectors, including Google Analytics, Google Ads, Google Sheets, BigQuery, AppSheet, File Upload (for CSV files), MySQL, Google Search Console, YouTube Analytics, and more.
You may also connect with 600+ "partner connectors," which are connectors built and supported by Looker Studio partners. These include Facebook Ads, Mailchimp, Twitter Analytics, Wrike, HubSpot, eBay, etc.
Google Search Console offers the most comprehensive SEO datasets for websites. So, to create your SEO dashboard, you may choose to connect to the "Google Search Console" in the Google connectors section.
However, if you connect to Goole Search Console directly, you'll have to create every element of your dashboard , which may be cumbersome and time-consuming.
You can make the process easy for yourself by using a Looker Studio SEO dashboard template from a third-party connector. The Windsor.ai connector offers one of the most comprehensive SEO dashboards for Looker Studio.
In the search panel, type "Windsor."
There's a shortcut to using the Windsor.ai connector for creating attractive  SEO dashboards within Looker Studio.
Open the SEO reporting template by Windsor.ai.
Click on the three-dot icon at the top right corner of the page, and click "Make a copy."
A pop-up window opens titled "Copy this report." In the "New Data Source" field, select "New Data Source."
Then you can type "Windsor" in the search panel to connect.
Step 3: Connect to the Windsor connector
Under the "Partner Connector," search for and select "Google Search Console."
Step 4: Give Windsor access
You'll then be prompted to give access to Windsor.ai. Click the "Authorize" button to grant access.
Step 5: Grant access to your Google Search Console account
In the window that pops up, click the "Grant Search Console Access" button.
In the new pop-up window, select the appropriate account and continue. Then click "Finish."
Step 6: Complete the connection
Navigate to the top right corner of the page for the "Connect" button and click it.  
Your data in Google Search Console will then be loaded in Looker Studio. Your data will be presented as a table, listing every field in your Search Console account.
Then hit the "Create Report" button at the top right corner of the page to start your report.  
It'll load the Windsor SEO dashboard template.
Looker Studio SEO Dashboard

 Overview
How you create an SEO reporting dashboard will depend on many things, including your target audience and SEO goals. For example, if you implement international strategies, you'll need SEO dashboards that show the penetration of particular countries.
Within Looker Studio, there are different visualization elements for SEO reporting. Hereunder, we'll examine key components of the Looker Studio SEO dashboard template.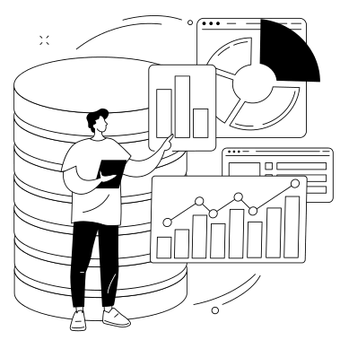 Try Windsor.ai today
Access all your data from your favorite sources in one place.
Get started for free with a 30 - day trial.
Start Free Trial
Add Tables
Tables are powerful visualization tools for many important SEO KPIs, such as impressions, clicks, click-through rates (CTR), etc.
You may choose the "Landing Pages" dimension, and use the tables to track bounce rate, session, and average time on site.
To add a table, click on the "insert" button on the toolbar, and in the resulting pop-up window, select "Table."
After clicking on "table," drag and drop the table on the Looker Studio SEO dashboard. Then use the field on the right-hand menu to drag and drop the dimension and metrics you want to chart on the table.
You'll then have a table that looks as follows:
In the table, you'll find that "Query" is one of the Dimensions charted, while clicks, impressions and CTR are the metrics charted. The table vividly shows the keywords that make your site visible in search engine results and drive clicks.
Add a Time Series chart
A Time Series chart is a powerful tool to help you visualize how your KPIs change over time.
You can chart performance before and after an SEO campaign to determine the result of the optimization. You may also use time series charts to provide periodically (monthly, quarterly, etc.) SEO reports. The line graph was previously demonstrated in a basic Time Series Chart.
To add a Time Series Chart, you may use the same steps as adding a table. Click on the insert button on the toolbar and click on "Time Series" in the pop-up window.
Drag and drop the table on the SEO dashboard, then drag and drop the dimension and metrics you want to chart. The image below charts the impressions and site clicks for a designated period of time.
Add a Bar Chart
A bar chart is a powerful visualization tool, especially for comparing data sets. A bar chart in Looker Studio SEO dashboard templates will help you visualize your KPIs clearly.
To add a bar chart, click on "Insert" on the toolbar and then click on "Column Chart" in the pop-up window. Then draw the chart on the dashboard and add your metrics.
In the bar below, using "average position" as the metric and "country " as the dimension, you can see the website's average position in Google searches in different countries.
Add a Pie Chart
The pie chart is an excellent visualization tool that makes it easy to visualize the relationship between the parts and the whole of a variable.
In an SEO Looker Studio template, a pie chart is excellent for tracking the type of devices that your site users are using so that you can implement design changes that drive traffic and conversions.
To add a Pie Chart:
Click the Insert button on the toolbar.

Click "Pie chart" on the pop-up window.

Drag and drop your chart in the dashboard, then

add the Dimension and metrics you want to chart from the right-hand menu.
Add Geo Chart
A geo chart helps you to know the specific areas of the world (countries, regions, cities, etc.) that are generating traffic, sessions, and conversions for you.
If you need to increase visibility in specific regions, then you need geo charts in your SEO dashboard.
It's also easy to add a geo chart. Navigate to Insert and click on Geo chart in the pop-up window. You can then add your dimension and metric to chart the map.
The Geo Chart above visualizes a site's impressions and click-through rate worldwide. It shows that the site posts impressions in India and some parts of the United States but posts low CTR in these regions.
Thus, the site may need to make its titles and meta description more interesting to drive clicks.
In the Geo Chart above, the zoom level is "world." But for a more granular chart, you can change the zoom level to continents, subcontinents, and all the way to cities.
Move to the "zoom" button at the right-hand pane to do this. You'll find it below the "Metrics" section.
Clicking on it allows you to select a zoom level to narrow down the region for your Geo Chart.
Limitations of
Looker Studio 
SEO Dashboard 
Looker Studio is a great tool for SEO visualization and reporting. However, it comes with some limitations. These include:
It limits the number of charts per report
Looker Studio limits the number of charts you can use to report your SEO metrics. This may not be an issue with startups. But it will be a big issue for large organizations that run large campaigns with layers of metrics and supermetrics for SEO to track and measure.
A crucial limitation when visualizing SEO KPI in the Looker Studio platform is that it does not display year-over-year trends.
Looker Studio is, at best, a reporting tool that allows users to create beautiful reports, like SEO monthly reports. However, it lacks the advanced BI capabilities of tools like Tableau and Power BI.
For example, Looker Studio lacks advanced visualization. It also lacks the SUMX feature for summing columns and rows.
Lack of real-time updates
Looker Studio offers Live Connections for many data sources. However, while this allows you to pull the latest data through the platform at any time, it does not offer any way to auto-refresh dashboards or report views.
So, you'll not be able to project a real-time updated dashboard. The only way is to use a third-party plug-in.
Using the Looker Studio live connection can be frustrating because of its low speed. When queries get more complex and data sources become more varied, the platform begins to lag.
Lack of API for Automation
Looker Studio lacks an API for enabling data automation. You can use the platform to create and send periodic reports , but there's no way to automate such a process.
However, automation is necessary for today's competitive business environment to save time from creating repetitive data reports.
Conclusions
If you need to create an SEO report, Looker Studio is one free tool to use. A Looker Studio SEO dashboard is a tool to visualize your SEO metrics and KPIs to know the success of your SEO campaign. One of the easiest ways to connect your SEO marketing data to Looker Studio is using a Windsor.ai connector.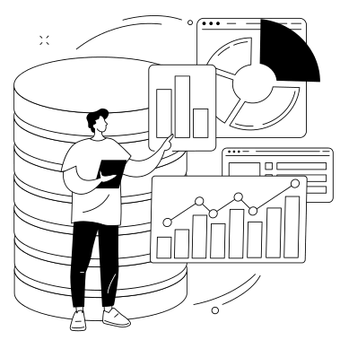 Try Windsor.ai today
Access all your data from your favorite sources in one place.
Get started for free with a 30 - day trial.
Start Free Trial
However, as mentioned earlier, Looker Studio has some limitations, especially as it lacks advanced visualizations and BI capabilities, real-time updates, and API for data automation. If you'll rather connect to an advanced visualization tool like Tableau and Power BI, Windsor.ai is also one of the best connectors you'll find.
Windsor.ai gives a better way to integrate your data for analysis, visualization, and reporting. With Widsor.ai, you'll get:
Excellent support for a wide range of data sources, including Google and non-Google sources
Advanced SEO metrics visualizations
Real-time data migration for real-time views and reports
Data automation to save you time
Interestingly, Windsor.ai is very easy to use and does not require you to code. It also has a 30-day free trial.
Get critical insights from your SEO metrics. Use Windsor.ai connector to get your SEO data into Looker Studio or other advanced BI tools for advanced visualization that drives smarter decisions.
Signup for Windsor.ai today!