Looker Studio (known as Google Data Studio) offers 20 free connectors that sync with Google-affiliated platforms and 600 partner connectors that require a fee to connect.
Your company may store  Data on an Excel file, Google Sheets, Google BigQuery, and many other sources. Looker Studio is the perfect place to unite all the data in a single platform.
Being able to visualise data helps you get valuable insights for better decision-making in your business and gives you a serious advantage when it comes to getting competitive opportunities.
There are many tools available to help visualize data, but as Looker Studio is entirely free and accessible to all, more organizations and individuals have been preferring Looker Studio over other platforms. Once you are familiar with the tool, it can be used to create stunning and informative reports for your company.
Table of content:
This article will introduce you to the different types of Looker Studio Connectors. Let's get started.

What are Looker Studio Connectors?
Looker Studio connector is a feature that helps to automatically pull data from your tracking and analysis tools. These connectors enable direct connection between the Looker Studio to any data source which is internet accessible.
Looker Studio Community Connectors was a program devised by Google to develop an open-source project which will help in bringing public and open data sets around the world to the Looker Studio users freely and with ease to access.
You are free to develop and use community connectors thereby creating reports and dashboards with data from sources such as:
Social media, CRM, search, finance, HR, and advertising platforms.

Public and other open data sets.

Private company data.
You can also use any data source or service that can be accessed using the App Script.
Types of Looker Studio Connectors
There are three types of connectors in the Looker Studio Connector Gallery, which are as given below:
Google Connectors
The Looker Studio team is behind the development of Google Connectors. These are used to connect to the Google-owned data sources and platforms such as Google Ads, BigQuery, Youtube Analytics, etc.
Partner Connectors
Google calls these connectors "Looker Studio Partners". These are usually SEO, Data reporting, and tracking platforms like Supermetrics, SEMrush, etc. These connectors pull data from a variety of sources, including social media platforms such as Facebook Ads, Shopify, AdRoll, etc.
You can read more about this later in this article.
Open Source Connectors
These connectors are developed and maintained by the Looker Studio open-source community team.
Every time a connector is hosted in the open-source repository, the Looker Studio Developer Relations team will manage deployment for the latest code of the connector.
This deployment will enable all users to try the connector in Looker Studio by simply clicking a link immediately.
The following Open Source Connectors are directly available in Data Studio:
You can use Community Connectors in different use cases:
You are visualizing data from a commercial platform (e.g. marketing, social media, analytics, etc)
You are visualizing on-premise enterprise data (e.g. sales data from an on-premise MySQL database)
You are creating a push button reporting platform
You are providing a way for your customers to visualize their data from your service
You are visualizing your own data from a web source
Let us now look into why should we build a connector for Looker Studio.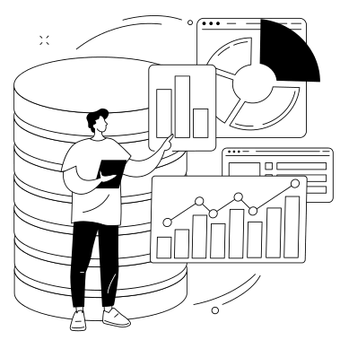 Try Windsor.ai today
Access all your data from your favorite sources in one place.
Get started for free with a 30 - day trial.
Start Free Trial
Why build a connector?
Till now, we have seen what Looker Studio is all about and what a connector is. But why do we need a connector? Let us delve into the reasons.
Community Connectors are powerful and easy to build
Using Google Apps Script, not only you can build the connectors but can also deploy them easily. You will also get the services and APIs such as caching, storage, translation, JDBC services, etc at your disposal.
Promotion and monetization of  your connector
If you are developing/building a Community Connector, you can publish and promote it in the Looker Studio Connector Gallery. All the users of the Looker Studio platform can explore this gallery from inside the platform. There is also a public Connector Gallery viewable by anyone.
Connectors connect all the Looker Studio users to all the public and open data sets around the world with ease.
Leverage Looker Studio as a reporting platform for your customers
Building a Looker Studio Community Connector provides significant value to your customers. You can rely on Looker Studio as a free and powerful reporting and analysis solution for your customers with the minimal development effort.
Free Community Connector development
You can build, deploy and distribute connectors for free and can use these connectors for free in Looker Studio.
There are different Looker Studio connectors, some of which are free while others are paid. The next two sections take you through the various such connectors provided by Windsor.ai.
Read Also:
Power BI vs Google Data Studio in 2023: Which is better?
Looker Studio Template Gallery
All Free Looker Studio Connectors
Here is a list of free Looker Studio connectors:
Google Sheets
BigQuery
Google Ads
File Upload
Amazon Redshift
Display & Video 360
Campaign Manager 360
Cloud SQL for MySQL
YouTube Analytics
Google Analytics
Cloud Spanner
Google Ad Manager 360
Google Surveys
Google Cloud Storage
MySQL
Extract Data
Microsoft SQL Server
Search Ads 360
Search Console
PostgreSQL
Paid Looker Studio Connectors
Windsor.ai provides the facility to set up a dashboard for working with Looker Studio. Once done, the Windsor.ai system will instantly pull up data as much as information sources that you need.
The best part is that the entire process just takes a few minutes as all you need to do is validate data sources. You can sign up to run a free trial to see firsthand how it works.
 We're focusing on the non-Google connectors here as the Google connectors already with great documentation and are in general very reliable.
Media
Connectors
Facebook Ads
This connector pulls all information you need from the Facebook Ads API into Looker Studio. Inside Looker Studio the data can then be blended with your analytics or CRM data.
Bing Ads / Microsoft Ads
Similar to the Google Ads connector provided by Google this connector allows to pull performance data from your Microsoft Ads (formerly known as Bing Ads) account and visualise it in Looker Studio.
LinkedIn Ads
This connector connects to your LinkedIn Campaign Manager account and extracts all metrics and dimensions to Looker Studio. Similar as with the other connectors the data can either be shown in an own dashboard or it can be blended with Analytics data sets.
Twitter Ads
Connects to your Twitter Ads account and pulls your performance data into Looker Studio. Once your data is in Looker Studio you can blend it with your Analytics data.
AdRoll
Helps you connect your AdRoll data to see how well AdRoll performs.
TikTok Ads
This connector allows you to load all your TikTok Ads related performance data and visualise it in Looker Studio.
Pinterest Ads
Connects all your Pinterest Ads campaigns to Looker Studio. Includes a easy to use template.
Snapchat Ads
Criteo
Loads all performance data available from Criteo and makes it available in Looker Studio.
Google Display & Video 360 (DoubleClick Bid Manager)
Connects and loads your DV360/DCM data into Looker Studio in a few clicks. Clicks, impressions, campaigns, line items, … all available in Looker Studio.
AppNexus
Connects all your AppNexus campaigns to Looker Studio. If you UTM tag the ad's which you are ad serving through AppNexus you can blend them with your Google Analytics data.
Attribution
Connectors
Attribution Connector
In the above connectors I mention the data blending feature of Looker Studio quite frequently. In certain instances when working with many different channels it can get to its limits. We built this Attribution connector which helps you to connect you all the marketing data you might have before they enter Looker Studio. This could be analytics (Google Analytics, Adobe Analytics), media (Google Ads, Facebook Ads, Bing Ads, …), CRM (Salesforce, Hubspot, Marketo, …) or offline conversions data.
CRM
Connectors
Salesforce
This connector connects your Salesforce CRM data to Looker Studio. Unfortunately it does not allow blending of data between
Salesforce
and your CRM platform but it provides the basics you'll need to visualise Salesforce Looker Studio.
Hubspot
Similar to the Salesforce connector, this connector helps you visualise your Hubspot data in Looker Studio. It does however not provide matching of customer journeys between analytics and CRM data.
Stripe
Are you using Stripe to manage your transactions? With this connector you can get all your Stripe transaction data into Looker Studio with a few clicks. It also allows you to blend data together so that you can link e-commerce transaction data from Google Analytics together with your
Stripe data
to understand net revenue impact.
E-commerce Store
Connectors
Shopify
Connects your Shopify data to Looker Studio. As with the Magento connector, an additional added value of having this data present in Looker Studio can be for data blending purposes. So instead of simply visualising the Shopify data on it's own you can use Looker Studios built in data blending feature to blend your Google Analytics e-commerce data together with your Shopify data and have a cancellation adjusted dashboard providing you useful insights.
Amazon Seller Central / Amazon SP
Connects to your Amazon Seller Central data and pulls both Advertising as well as sell in and sell out data for the products you sell on Amazon.
Analytics 
Connectors
Adobe Analytics
This connector works similar to the Google Analytics connector and pulls your Adobe Analytics (aka Omniture) data into Looker Studio.
Other
Connectors
Awin (Affiliate Window)
If you work with affiliates, chances are high that you use Awin. This connector gets all your Awin data into Looker Studio so you understand the ROI of your affiliate publishers.
Integrate all your marketing data from different data sources in Looker Studio
Windsor.ai's web connectors can help you solve this problem. It can collect and update data every time you refresh the Looker Studio dashboard. The Looker Studio itself enables users to dive deeper and look at data from different angles. It effectively cuts down the time spent on creating reports. With quicker insights, marketers can focus on optimizing ads or setting up new campaigns.
We will guide through, getting all your Marketing Platforms Data using our Google Data Studio connectors.
We recently published a connector for Looker Studio which connects all your marketing data from all your channels into one place, runs multitouch attribution, and provides you insights.
Note: To be able to create the dashboard you will need to connect your data here
---
Install the Windsor.ai Looker Studio Connector here

Note: If you have any questions about connecting your data you might find this how-to useful

Click on CREATE REPORT

Click on CREATE REPORT again

Now your dashboard is ready
That was easy, wasn't it? Enjoy exploring your data! We hope that this will allow you to save time on manual tasks.
Wrapping Up
Marketing agencies primarily prefer Looker Studio due to its extensive list of connectors. Looker Studio Connectors help you import data into the Looker Studio dashboard.
Windsor.ai has native connectors to all widely used marketing platforms and CRM's. We also make it easy to do transformations to match the customer journeys from the different tools easily.
Windsor.ai's connectors can help you connect Looker Studio with popular data warehouses like Azure Synapse, BigQuery, and Snowflake. With BigQuery, which is a Google product, Looker Studio works like a dream. You do not have to write a single SQL line to combine tables. 
Advantages of using Windsor.ai 
No more using CSV dumps and spreadsheets to bring together data from different Software-as-a-Service (SaaS) systems. With Windsor.ai, all your data is delivered to a relational data warehouse, giving you clarity across all of your data sources.
Once all your data is in a single location, things become easy. Enable machine learning or connect the most powerful visualization tools: the opportunities are endlessly exciting. Use Windsor.ai to integrate your data with Looker Studio to provide a boost to your business.
We won't convince you to purchase a plan, but at least give it a try for 30 days for free, and you'll see the benefits we could bring to your team.