Adding the data from Google Search Console to Looker Studio lets you share, embed, and email your reports to teammates and clients.
Our Google Search Console connector has more than 50 fields and metrics, with the main fields being clicks, impressions, site CTR, and Average Position. With these metrics, you can strategize better and improve your business.
This post teaches you to create a simple Looker Studio Search Console dashboard.
Read on and learn how to automate your data collection process and create better reports.
Table of content:
Introduction to Google Search Console and Looker Studio
Google Search Console
Formerly called Google Webmaster Tools, Google Search Console is a free tool for website owners to gain insights into their site's visibility and optimize its organic presence.
You'll see your rich search results, mobile site performance, referring domains, and highest-traffic queries and pages.
Whether you're a marketer, SEO specialist, web developer, site administrator, or business owner, Search Console will come in handy. It allows you to check issues on indexing and many other topics.
Looker Studio
Looker Studio (GDS) is a free data visualization platform that allows you to create interactive dashboards and customized reporting.
You can easily share and schedule your reports with the tool's many helpful features.
Looker Studio enables you to visualize trends, track key KPIs, and compare performance over time.
Looker Studio is an upgrade from the old Google Analytics dashboard, which has limited functionalities. With Looker Studio, you can visualize your data in customizable dashboards and reports.
You'll be able to measure your site's performance and search traffic, fix issues, and have your site among the top Google search results.
You can connect your analytics, media, or raw data and create dashboards with Looker Studio.
How to connect Google Search Console to Looker Studio
Option 1:
Step 1:
Log into Windsor.ai with your registered username. If you don't already have an account, click sign up to register.
Step 2:
You need to choose Google search console as a Data Source and Grant Access to Windsor.ai. 
Step 3:
Navigate to "Select Destination" and Click on Looker Studio 
Step 4:
Select the fields on the right, and click Google Data Studio Destination 
Now, select the connector and enable access to your data source.
Option 2:
Step 1:
Go to the Looker Studio Gallery Connectors.
Step 2:
Choose the Google Search console Connector and Authorize access to Windsor.ai
Now you're ready to build your dashboards or use one of the templates that we will go through in the next section.
Google Search Console Looker Studio template walkthrough
One of the main advantages of Looker Studio is that it lets you build any type of marketing report or dashboard. But considering the high number of data points available, it would be good to start with a ready-made template.
The Looker Studio templates have many benefits for businesses, allowing them to gauge their digital marketing performance.
Templates are available free of cost, lots of tutorials are available online, and choosing chart or map types is made easier.
Also, templates allow you to use the most useful insights from the raw data and, thus, make informed decisions to suit your requirements. Not to mention templates are highly customizable, so you will enjoy plenty of flexibility.  
If you encounter issues when authorizing the Search console to connect with Looker Studio. Here's what to do in this case:
Step 
1
:
You'll have to remove Looker Studio's permissions first before connecting to the Search console.
Step 2:
Once done, you'll have to choose either URL impression or Site Impression. When you choose one, you'll see various fields from your Data Source, and you can add them to your report.
Step 3:
Select the date range with which you will work. You may use Google's new Advanced Date Range options for this purpose. Search Console can take around three days to display the latest data.
Looker Studio Google Search Console Dashboard
It's not enough to know how to navigate Google Search Console. You need to understand how all that data works together.
Your Google Search Console dashboard allows you to filter data depending on specific metrics that enable better interpretation.
Let's take a quick look at these metrics to see how they contribute toward developing your SEO strategy.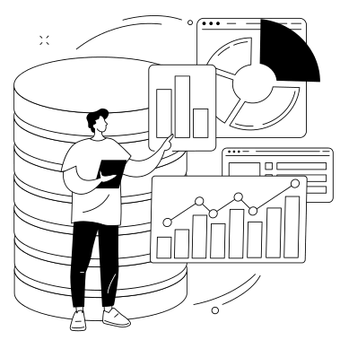 Try Windsor.ai today
Access all your data from your favorite sources in one place.
Get started for free with a 30 - day trial.
Start Free Trial
Clicks
Clicks refer to the number of times a user clicked through to your site. This metric is your main indicator of traffic from search result pages. Google counts one click when a user clicks a link from the search results.
But if you click on the same link again from the search results, Google won't count this towards your data. However, clicking on a different link counts as one for each link clicked.
Monitoring this metric allows you to track potential customers who visit your site and leave without interacting. This way, you can provide them with more helpful information about your business and improve their user experience.
Impressions
Impressions are the number of times a user saw a link to your site in the search results. It doesn't matter if the user scrolled down the page or visited the subsequent pages to see your site.
Once the site appears on the search results, Google will count it as an impression.
The number of impressions for your website provides insights into the site's visibility for specific terms. Monitoring this metric is important because it tells you how well your web pages are doing.
With this information, you can develop plans and achieve your business goals.
Site CTR
Site click-through rate (CTR) refers to the percentage of impressions that result in a click. It is the main metric for knowing how many users click on your website each time it appears on search results. Here's the formula for calculating the CTR of a site:
CTR = Number of Clicks / Number of Impressions x 100
Like other metrics, monitoring CTR is essential. It allows you to understand your customers. When reaching your target audience, you'll know what works and what doesn't.
If the site CTR is low, you're not doing a good job of convincing your target audience to click. Or you're not targeting the correct audience.
A good CTR meets or exceeds existing benchmarks and industry averages.
What is the average position in Google Search Console?
On the Google search console, the average position among search results reveals the numerical order of the URL of your site for the specific keyword. However, you must know that the average position of a keyword does not reflect its rank at that particular time.
Let's say a particular keyword is at 3rd position today. It could be at 6th position the next day and at 9th position the day after. In this situation, the average position the URL will display is 6.
That's how the Google search console displays the average position. The Search Console Average Position report gives you insights,
including tables, graphs, and Average CTR page total with details of the number of Keywords per Average Position from Google search results.
You'll see a graph detailing the Clicks, Average Position, total Impressions, number of Keywords, and an average Click-thru-Rate in Google Web,  Images, News, or Videos Search queries.
When you set an appropriate Report Section in the Display setting below Report Options, the data will appear in the report. You can export the data to PDF and CSV.
How to add search position in Search Console Looker Studio?
You can add the position metrics in Search Console Looker Studio by selecting tabs above the chart. The position is the website's average ranking for queries on search results pages.
A URL can rank for various positions depending on the query, and you can gauge the site's performance by determining the average position.
For example, if the URL ranks in the 5th position for one query and the 6th for another, the average position will be 5.5.
The position data comes in handy when making adjustments and optimizations for your site. It would be best to consider dates and seasonality when implementing a strategy, as these factors can influence ranking movements.
The date range control allows you to select the dates you want to see in the report. A custom date period can be defined by choosing start and end dates or using a list of predefined ranges, such as Yesterday, Last 7 days (including today), Last quarter, Year to Date, and so on.
How Windsor.ai can help you create better reports
Windsor.ai automates your data collection process, saving you a lot of time and boosting the quality of your reports. You can seamlessly optimize your plans and strategies to achieve your business goals with various integrations.
Windsor.ai provides information about the list of ROI to improve your efforts toward scaling your business.
With more than 70 data integrations, you have all you need in terms of cross-channel marketing reports. Windsor.ai allows you to send your reports to clients via Looker Studio or Google Sheets. You can also share them as PDF files.
Windsor.ai is easy to use, and you can download and share your reports with clients, teammates, or professionals, depending on your pricing plan.
Conclusion
Google Search Console and Looker Studio allow you to combine data from different sources, visualize it, and use it to improve your business. You'll save a lot of time with automated report building and data compilation.
The process of creating a Search Console Dashboard on Looker Studio is straightforward. Make sure you add Windsor.ai as your data source. It allows you to connect all marketing data and optimize the ROI across various channels.
When you automate all data collection processes, you'll have more time for insight, which means more time to scale your business. That's what Windsor.ai does for you. It allows you to focus on what matters the most.
You might also like to read:
Microsoft Power BI Google Search Console Report Dashboard Template
Accessing any fields from your marketing platforms for your data pipelines
Best Free & Paid Looker Studio Connectors in 2023
Best Looker Studio Example Dashboards
Looker Vs Power BI: Compare BI Tools
Looker Studio Template Gallery
Google Looker Studio (Data Studio) Template for SEO: A Ready-to-Use Report