Analyze Your Metrics from Salesforce in Tableau
Tableau and Salesforce are two of the most popular data visualization and CRM tools. However, connecting your Salesforce data to Tableau can be difficult and time-consuming. With Windsor.ai, you can combine these powerful tools and utilize their synergies to the full extent.
There is little to no doubt that Salesforce is a great customizable total business software suite, but it lacks the level of data visualization capabilities of Tableau. The good news is that with a Salesforce to Tableau connector, you can use both tools to better understand your business operations.
The combination of Salesforce and Tableau can level up your analytics and data visualization game and give you invaluable insights that can improve scalability and save you money. If you truly want to unleash the full power of this combination, you must know how to connect these.
This article sets out to do just that. Here, we will talk about why it is essential to connect these tools and the simplest and quickest ways to do it.
So, if you are ready to unleash the analytics superhero within you, let's get going!    
Table of content:
Why connect Salesforce and Tableau?
Collecting data without having the right tools to analyze it correctly is a waste of time. Suppose your customer data sits there without your team able to utilize it to gain insights into the various aspects of business operations, In that case you are doing a massive disservice to your business.
Thankfully, you can get the best of both worlds- data collection, analytics, and visualization- with the combination of Salesforce and Tableau. You can use Tableau to blend data from your Salesforce software for increased visibility and a deeper analysis of your data. A Salesforce Tableau connector can quickly get the data from Salesforce into Tableau for analysis.
With the integration of Salesforce data with Tableau Salesforce connector, you can give your finance, operations, and other executives a treasure trove of up-to-date and customized data visualization.
Different ways to access your Salesforce data from Tableau
Salesforce and Tableau are indeed a match made in heaven. Utilizing the data in Salesforce inside Tableau can transform how you visualize and analyze the data. It can give you a deeper insight into your customer data, meaning more optimization and, more importantly, more profitability.
But how do we get the two systems talking? What is the best way to connect the Salesforce data and integrate it using Tableau?
The process begins with accessing the Salesforce data within the Tableau framework. There are three methods with which you can access the Salesforce data in Tableau.
1. Extract the data from Salesforce in .csv, Google Sheets, or Excel, and then use it in Tableau
It is perhaps one of the simplest and least complicated ways to extract data from Salesforce and use it in Tableau. Most sales managers and analysts are comfortable using Microsoft Excel or similar software. So, it can be seen as a "routine" way for these people to handle large volumes of data from Salesforce in Excel.
However, when you think about this approach, it becomes clear that such an approach's manual burden will be quite significant. Another problem with this methodology is that you want to get the Salesforce data out and work in Tableau every time. You will have to extract and download it manually.
The time your team is extracting and downloading the data is the time they can use for some productive work. In short, your team will be busy doing repetitive work that can be easily automated. It is one of the primary reasons many businesses don't prefer this route, although it is less complicated than others.
2. Use the Salesforce Cloud Connector to connect directly with Tableau
There is an option of directly connecting the Salesforce data to Tableau with the help of Tableau Salesforce data connector API. One of the most significant advantages of this integration method is that the manual burden of extracting and downloading the data is greatly reduced. Once you publish the data to the online Tableau server, the data is automatically refreshed.
Another advantage of this approach is the fact that Salesforce has a feature called Salesforce tables that can be used directly in Tableau. You can also use Salesforce Starters, which are ready-to-use reports as well.
The downside of the Tableau Salesforce data connector API method is that it is more complex than previously discussed. Your team might be more equipped to use this step if they have little knowledge about SQL or querying languages.
The biggest disadvantage of this way of linking Salesforce data into Tableau is the fact layout of the data. The data organization of the Tableau connector for Salesforce is designed with a CRM in mind rather than a reporting tool like Tableau. It results in some severe limitations when utilizing the data in Tableau. Many analysts find it difficult to work with the data obtained from Salesforce using this approach.
One of the Tableau Salesforce Connector limitations is that Tableau cannot read formula fields from Salesforce. It might not be such a big issue for some businesses, but if you have complex Salesforce formula fields, it can be a huge inconvenience.
Another Tableau Salesforce Connector limitation is that there are no outer joins between the tables.  
Remember that if you want to get data from Salesforce into Tableau, you will need accounts for both applications.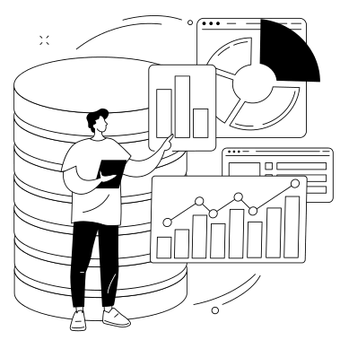 Try Windsor.ai today
Access all your data from your favorite sources in one place.
Get started for free with a 30 - day trial.
Start Free Trial
3. Integrate the data from Salesforce into a data warehouse
Another approach to getting your salesforce data into Tableau is integrating it into a data warehouse and using it from there in Tableau. As you can imagine, this is a more demanding method compared to others on this list.
Despite being more intensive, this approach has a considerable advantage in the form of the freedom your get to specify the layout of your data. The data is refreshed directly from Salesforce into the data warehouse, which makes it more manageable and customizable.
Another huge advantage of this method is that almost anyone in your team can utilize the data. You don't need to have a Salesforce account to do it if you are using this method.
Perhaps the biggest advantage of this approach to data utilization is the freedom. If your team has people working with different BT tools, they can utilize the data if it is moved to a common data mart.
On the flip side, the biggest drawback of this method of Salesforce data integration with Tableau is the data warehouse setup. As you can imagine, this is significantly more complex than the other two ways discussed above. However, the degree of automation this method provides is not possessed by the aforementioned manual techniques.
Advantages of using Tableau with Salesforce
There is a significant advantage of using Tableau as your data visualization tool rather than doing all your visualizations in Salesforce.
The sheer number of possibilities and the freedom that Tableau offers is reason enough for many to want to use the Salesforce data in this visualization tool. Don't get us wrong, the salesforce visualizations have come a long way, but they still leave some aspects out that Tableau does not.
You can create as complex or as simple visualizations with Tableau as you would like. You are truly limited just by your imagination. You can create highly customizable dashboards on Tableau. If you want to recreate the dashboard someone has created for their project, you can easily do that.
The ability to create calculated fields or parameters on the fly is yet another reason you might want to use Tableau instead of Salesforce visualization tools. You can drill down into specific aspects of your data or create custom filters for your dashboard; the possibilities are virtually limitless.
Tableau uses two computation techniques to achieve faster computation- direct and in-memory. The Tableau VizQL Engine lets your business quickly analyze large volumes of data compared to using Salesforce.
The biggest advantage of the Salesforce and Tableau integration is that it makes your consumer data work. The combined sources of Salesforce and Tableau allow meaningful and secure data analysis. You can analyze your data using browsers as well as through various mobile devices as well. You don't have to worry about data quality, modeling, or management when these sources work for you.
Everyone on your team can see all the reports for free if you have a Tableau Online account.
The ability to blend the Salesforce data with Tableau allows businesses to:
Make quick decisions by knowing where our sales team should focus
Better utilize their budget and resources
Improve the team's communication
Set realistic expectations and improve the scalability of the business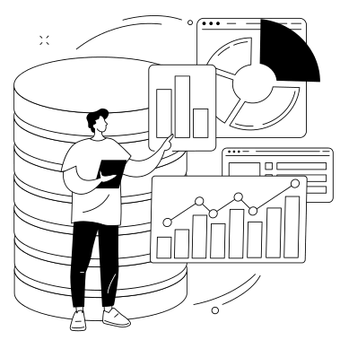 Try Windsor.ai today
Access all your data from your favorite sources in one place.
Get started for free with a 30 - day trial.
Start Free Trial
Connecting Salesforce to Tableau
If you want a quick, reliable, and easy solution to import data from Salesforce into Tableau, Windsor.ai has you covered. We have a simple and easy-to-implement solution to automate the import of your Salesforce data into Tableau with a few steps. With our Tableau to Salesforce Connector, connecting the data from Salesforce to Tableau is just a few clicks away.
Here is a step-by-step guide to importing your Salesforce data into Tableau using Windsor.ai
Step 1
Once you log into your Windsor.ai account, you will see a list of data sources on the left panel, as seen in the screenshot below.
Select Salesforce as the Data Source and grant access to Windsor.ai.
Hit the next button at the bottom of the screen.
Step 2
Once you click the next button after selecting Salesforce as your data source, you will be greeted with a screen like this
As you can see, there are several data destinations on the screen, from Tableau to BigQuery, AWS S3, and Looker Studio.
You need to select Tableau and click on it.
You will also need to select fields on the right and click next, where a screen will greet you with a URL that works as a data feed. You need to copy the URL from here
Step 3
On your Tableau desktop, create a new data source; click on More on the right panel and click on web data connector, as shown in the screenshot below
Add the copied URL from the previous step to the next screen and paste it into your Tableau desktop. 
That's it! Please wait for the connector's magic and import all your Salesforce data into Tableau as an extract. Once the data extraction is complete, Tableau will open a new worksheet, and you can begin analyzing your data.
Working with Windsor.ai's Tableau connector for Salesforce to import your Salesforce data into Tableau is easy. Windsor.ai also offers a free trial, so you can see what features it has to offer.
Conclusion
Connecting your Salesforce data to a powerful data visualization tool like Tableau can be a game-changer. Tableau offers several advantages over Salesforce regarding the analysis's granularity and the dashboard's customizability.
Connecting the Salesforce data to Tableau can be difficult if you don't use the right tools. Although a few methods are available, as we discussed above, most are pretty complex and time-consuming or offer fewer benefits.
Using the Windsor.ai Tableau Salesforce Connector is easy and offers many benefits. If you want to take your data analysis and visualization game to the next level, consider Windsor.ai. You can also get a 30 days free trial to get the feel of the software and see how you can use the software in your workflow.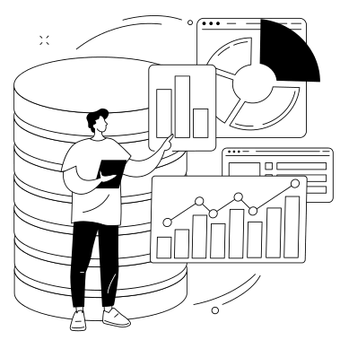 Try Windsor.ai today
Access all your data from your favorite sources in one place.
Get started for free with a 30 - day trial.
Start Free Trial
Frequently asked questions
How does Tableau connect to Salesforce?
There are many ways to connect Salesforce to Tableau. If you want a less complex way that requires more manual work, you can download the Salesforce data to Excel and use it in Tableau later.
You can also use the Tableau connector for Salesforce, which can automatically refresh the data, but it is a bit more complex than using the Excel way.
You can also use the Windsor.ai Tableau to Salesforce connector. It will help you to quickly transfer the data from Salesforce to Tableau, automating the process and saving your team much time and manual work.
Can you link Salesforce to Tableau?
Yes, it is possible to link your Salesforce data to Tableau. With our Tableau to Salesforce Connector, connecting the data from Salesforce to Tableau is just a few clicks away.  
Can Tableau push data to Salesforce?
Tableau leverages several APIs to connect to Salesforce However, this has some restrictions as well. There is a limit on the data type and volume you can access simultaneously.
Salesforce metrics and dimensions available for streaming into Tableau
Extract Salesforce data to Tableau with Windsor.ai
See the value and return on every marketing touchpoint
Providing 70+ marketing data streams, we make sure that all the data we integrate is fresh and accessible by marketers, whenever they want.

Spend less time on manual data loading and spreadsheets. Focus on delighting your customers.
Popular Salesforce and Tableau integrations