Analyze Your Metrics from HubSpot in Tableau
Do you want to know how to set up a HubSpot Tableau in minutes?
Both Tableau and HubSpot are powerful platforms that help marketers connect the dots between the marketing data they're collecting and how it's impacting their business goals.  
These two powerful tools can revolutionize your marketing efforts and help you make better decisions about what content to send, where to invest your resources, and, most importantly, how to measure success.
In today's business world, having deep insights into your marketing data could be the difference between a profitable business and a business that fails.
Once you can integrate HubSpot and Tableau, it will be easy to import contacts from HubSpot into Tableau and see how they interact with your website or email campaigns over time.
Also, you will see which customers will most likely purchase from you based on their interactions with your content.
Gone are the days when interacting with data was done manually. With Windsor.ai Tableau HubSpot integration, working with two platforms is more accessible now.
This article will show you how to set up HubSpot Tableau Integration in Minutes.
Let's get started!
Table of Content:
What is HubSpot?
HubSpot is a software company that provides marketing, sales, content management, and customer support services to technological software companies.
They offer SEO services and a CRM tool to help you generate, convert, and manage your leads.
It is one of the most popular in its field and has been around since 2006, when it was founded by Brian Halligan and Dharmesh Shah in Cambridge, Massachusetts.
Features of Hubspot
HubSpot has five main hubs (Marketing Hub, Sales Hub, Service Hub, CMS Hub, and Operations Hub) with features that improve business efficiency and maximize marketers' time.
Using the latest tools and integrations, HubSpot customers can build Sales and Marketing workflows specific to their use cases. They can also use it to build chatbots to improve customer experience and service on their website.
HubSpot has many features within each hub, including lead nurturing, email marketing, and SEO. Let's take a look at its main features.
Dashboard
The dashboard shows the user's metrics in an easy-to-read format.
The dashboard features allow users to view the performance of their marketing campaigns, such as how many leads they generated from different sources and how much revenue they received from each source.
The dashboard also has features that allow users to see and track their website traffic, including where people are coming from and what pages they visit on the site.
Free CRM
The HubSpot CRM helps you track leads from the moment they enter your system to the point where they become customers by automating tasks like sending email campaigns or triggering follow-up phone calls.
List segmentation
HubSpot has a feature called List Segmentation that allows you to create segmented lists of contacts or leads. You can use these lists for email campaigns, marketing campaigns, or any other campaign you might want to send to a specific group of contacts.
Landing pages
The HubSpot landing page builder is an easy-to-use tool that helps you create a custom landing page in minutes.
Workflows
HubSpot allows you to automate certain aspects of your marketing campaign. You can set up templates and workflows to streamline generating the content, publish it on different platforms, and measure its performance.
Some platforms that HubSpot can integrate with include Zoom, Slack, and LinkedIn.
Social Media integration and management
HubSpot integrates with social media platforms like Facebook, Twitter, and LinkedIn
The social media management tool allows you to post updates on Linkedin, Instagram, Facebook, and other social media sites with just one click. You can also schedule posts to go live at specific times or days.
Paid ad tracking
The HubSpot Paid Ad Tracking feature allows marketers to see which ads are being clicked, which ones are being seen, and which are generating conversions.
This feature helps marketers understand how well their ads perform compared to other competitors in their industry.
 What is Tableau?
Tableau is an interactive analytics and visualization tool that allows users to explore and share data in a simple way.
The company's flagship product, Tableau Desktop, can be accessed as a desktop or browser-based application from within Tableau Public.
The software is best used by users who want to analyze their data without the need for programming skills. It allows them to create charts, graphs, maps, and other types of visualizations.
Tableau's interface is intuitive and easy to use, making this solution perfect for business people who want to focus on what's important.
Tableau main features
Marketers can use Tableau software for data visualization, business intelligence, and data science analysis. The simplicity of the Tableau platform can allow anyone to create a better data visualization project without having any knowledge of complex statistical concepts or programming skills.
With that said, here are the main features.
Interactive dashboard
Tableau's multipurpose dashboard provides users an overview of their company's performance, making it easy to read and understand data, thereby enabling users to monitor customer behavior and reach or analyze and predict trends.
Visualizations
Tableau offers various visualizations, including bar charts, pie charts, scatter plots, line graphs, and many more. Users can also customize the visualizations by changing the color scheme and size of the chart.
Robust security
Tableau provides robust security features to protect data by providing user authentication and authorization systems for data connections and secure connections between Tableau Server and Tableau Online.
The use of row-level filtering enhances data security. Additionally, users can connect to additional security protocols like Active Directory and Kerberos.
Data sources
Tableau can be used to retrieve data from various sources and then merge them into one, also known as data blending.
Data can be accessed from various sources like relational and non-relational databases, Big Data, Data Warehouses, text files, Excel sheets, or PDFs.
Tableau can safely connect to any of these data sources and more.
Tableau also supports several data connectors, such as Presto, FreshBooks, GraphQL, MailChimp, MemSQL, Google Analytics, Dropbox, Basecamp, Amazon S3, Google Sheets, and others.
Data extraction and blending
The software can extract data from various sources, including Excel spreadsheets, text files, CSV, and SQL databases.
The extracted data can be blended with other datasets to form new datasets. This is done by using the Tableau Data Blending feature.
Live and in-memory data
Tableau can work with live data as well as in-memory data. Tableau enables users to link current and data extracted from external data sources like Salesforce or Google Analytics. This allows for faster analysis of your business's performance as it happens.
By creating live data connections or saving the data in memory, it is possible to use the data directly from the data source.
Predictive analysis and forecast
One of the most critical features of Tableau is its predictive analysis and forecasting. Tableau provides an easy way for users to find patterns and trends in their data, which are then used for predictive analysis or forecasting.
This means that Tableau can help users find patterns in the data and predict future trends.
HubSpot Tableau integration
HubSpot Tableau integration is the process of pulling data from HubSpot into Tableau for better visualization of data, analysis, and decision-making that helps companies grow their business.
It is an efficient way of adding more context to the data and creating a more meaningful story.
The integration is done using a custom Tableau HubSpot connector such as Windsor.ai since there is no free API directly connecting the two platforms.
The integration facilitates many purposes, from marketing and sales to customer success and product management.
Prerequisites for HubSpot Tableau integration
Before you can begin the Tableau HubSpot integration, you first need to meet the following criteria:
With that said, follow the step-by-step instructions below to begin the Tableau HubSpot integration.
6 Steps to Connect Hubspot Tableau
Step 1: Visit Windsor.ai to Register or log in if you already have an account
First, you must visit Windsor.ai onboarding form page to sign up or log in if you have an account.
When you're logged in, select HubSpot data source, and then click the "Grant HubSpot Access" button.
After clicking on grant HubSpot access, a new window pops up requiring you to log into your HubSpot account.
If registered, you can log in or sign up for an account if you have yet to register with HubSpot.
Step 2: Choose the account in HubSpot whose data you want to extract
Once you're logged into your HubSpot account, you will see the page that says "Connecting Windsor.ai CRM Attribution to HubSpot,"  as shown in the image above.
Then click the orange button that says "Choose Account."
Step 3: Grant Windsor.ai CRM Attribution access to HubSpot account
After clicking choose account, the new page that opens in HubSpot will show that Windsor.ai CRM Attribution requests access to your HubSpot account.
Click on "connect app" to allow Windsor.ai access.
Step 4: Go to "Select Destination" and choose Tableau
After you have connected Windsor.ai to HubSpot, go back to Windsor.ai onboarding page and click on "Preview and Destination."
When the preview and destination page opens, choose Tableau as your data destination, as shown below.
After choosing Tableau as your data destination, copy and save the API URL that appears into your clipboard as seen in the image below.
Step 5: Log in to Tableau Desktop and create a new Data source
Now that you have your HubSpot data connected with Windsor.ai and have selected Tableau as your data destination, it's time to log in to our Tableau connector.
Our Tableau connector will allow you to visualize all your Windsor.ai data directly in Tableau.
Click "To a Server" and then choose "Web Data Connector," as shown in the image above. Then paste the URL you saved in step 4 in the field as per the image below and click next.
After clicking on next, in the page that opens, select the columns that you want to bring into Tableau, specify the table's name and click Submit.
Step 6: Start visualizing your data in Tableau
After you click on Submit, your data starts loading.
Once your data has loaded and is connected, you will be able to visualize your data on your dashboards, create reports, and join your data with other data sets you might have.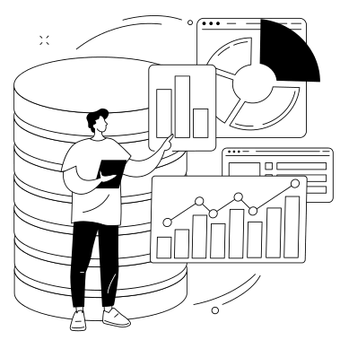 Try Windsor.ai today
Access all your data from your favorite sources in one place.
Get started for free with a 30 - day trial.
Start Free Trial
Conclusions
Tableau is an incredibly powerful visualization tool with tons of awesome features. Likewise, HubSpot is a marketing automation company that provides tools to help companies grow and thrive through the use of their software.
Integrating these two platforms using our custom connector allows marketers to better understand their customers, which in turn helps them make more informed decisions.
Recent statistics show that HubSpot has over 143,000 customers across more than 120 countries. So, as a business, B2B marketer, or data analyst using HubSpot, if you do not want to miss out on getting comprehensive marketing data insight that improves business performance, then it's time to integrate Tableau and HubSpot.
You can't afford to sleep on getting real-time insight that drives business growth in today's business. And it's easy using our custom connectors.
At Windsor.ai, we make it easier for you to create a report using our pre-built templates quickly. To view other marketing dashboards to which you can connect your data, please look at our Windsor.ai template gallery.
Claim your 30-day free trial today.
FAQ: HubSpot Tableau Integration
Can HubSpot integrate with Tableau?
HubSpot can integrate with Tableau in just a few clicks using a custom connector such as Windsor.ai Tableau HubSpot connector.
HubSpot, a marketing automation platform, helps marketers and sales teams manage their inbound marketing and sales processes.
Integrating HubSpot to Tableau will enhance your marketing data report through dynamic data visualization.
What does Tableau integrate with?
Tableau integrates with a variety of data sources. Data can be extracted from any platform Tableau integrates with for analysis and visualization.
Extracting and blending data from popular databases and applications such as SQL Server, Oracle, MySQL, Microsoft Office, Google Analytics, and Salesforce CRM is seamless with Tableau.
How to connect Tableau and HubSpot?
Tableau can connect with HubSpot through a custom connector such as Windsor.ai Tableau HubSpot connector.
This Tableau connector for HubSpot enables you to import contact information, lead information, web traffic, and other data into Tableau to create more insightful visualizations.
Hubspot metrics and dimensions available for streaming into Tableau
Extract Hubspot data to Tableau with Windsor.ai
See the value and return on every marketing touchpoint
Providing 70+ marketing data streams, we make sure that all the data we integrate is fresh and accessible by marketers, whenever they want.

Spend less time on manual data loading and spreadsheets. Focus on delighting your customers.
Popular Hubspot and Tableau integrations