Looking for the most appropriate Looker Studio social media report templates? You have come to the right place.
A great template is one that makes your life easy. It takes the stress out of choosing metrics and is also easily customizable.
9 Best Looker Studio Social Media Templates
Some of the greatest social media analytics templates are the ones that provide the most value. Here we list hand-picked templates for Looker Studio popular among social media marketers.
If you are a consumer product brand and use Facebook as the primary marketing platform, a data studio dashboard can make reporting easy. Facebook Ads Overview Report dashboard provides a simple one-page overview of your paid Facebook activities. It visualizes costs, impressions, actions, and clicks.
It includes calculated metrics such as CPC, CPM, and cost per action. Overall, it has more than 500 dimensions and metrics available.
Other Looker Studio Facebook Ads Templates
If you use LinkedIn for running any campaign Looker Studio LinkedIn Ads Overview template makes it possible. The template covers most marketing metrics like campaigns, clicks, impressions, and post-click conversions. With some modifications, you can track more.
How to use it
Click on this link to open the template
Make a copy of it (File -> Make a copy)
For the new data source select CREATE NEW DATA SOURCE
Under COMMUNITY CONNECTORS, go to EXPLORE CONNECTORS. Search for "LinkedIn Ads by Windsor.ai" and add the connector.
It allows you to connect to and visualize your Twitter Ads data in Looker Studio. Getting it up and running should not take more than 5 minutes.
Do you want to get all your Pinterest Ads data into Looker Studio? This dashboard template, which includes a connector, will do exactly this. It connects to Pinterest Ads and retrieves all your data in real-time.
How to use it
Configure the Looker Studio Connector: Pinterest Ad Insights
Once you finish installing the connector click the Create Report button
Now your dashboard should be loading
Initiating the process should require less than 5 minutes. To activate your dashboard, ensure you have access to a Snapchat account linked to a Snapchat Ads account. Throughout the connector installation, you'll be prompted to authenticate and generate a token.
The insights here are retrieved at a campaign level and the following dimensions are available:
Campaign Name
Click Count
Amount Spent
Impression Count
Swipe-Up Count
Total Time Spent on top Snap Ad (in milliseconds)
How to use it
Configure the Looker Studio Connector: Snapchat Ad Insights
Once you finished adding your accounts click Finish
Back in Looker Studio, click CREATE REPORT
Now your Snapchat Ads dashboard is ready!
Establishing this dashboard should require no more than 2 minutes. Prior to beginning, ensure that you possess administrative access to at least one LinkedIn company page. Throughout the installation process, you will be prompted to sign in using your LinkedIn username and password.
Available pages in the report are:
Visitor analytics
Visitor metrics
Update analytics
Update metrics
Updates
Link: https://lookerstudio.google.com/u/0/reporting/48c4372b-8382-4956-bda7-4842a05d5fbf/page/g9iOB
The template is initially equipped with standard metrics such as costs, conversions, impressions, and campaign-level click-through rates (CTRs). To delve deeper, just customize the dashboard by editing it and incorporating extra dimensions and metrics.
To start using it
Configure the Looker Studio Connector: Tiktok Ad Insights
Once you are finished with the configuration of the connector you will be redirected back to Looker Studio.
Click CREATE REPORT
Now your dashboard is set up
Setting up this dashboard should take no more than 2 minutes. Before you begin, ensure you have administrative access to at least one Instagram page linked to your Facebook business account. Throughout the installation, you'll be prompted to log in with your Facebook username and password.
There are currently three pages available in the report:
Insights Overview
Posts Reporting
Insights Activity
Link: https://lookerstudio.google.com/u/0/reporting/4b870657-1032-4204-bb73-7de6b746a06f/preview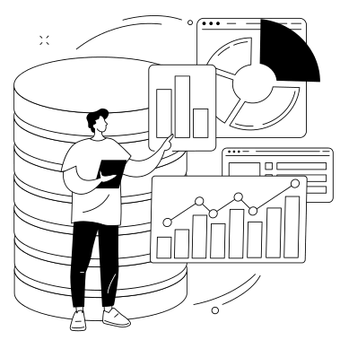 Try Windsor.ai today
Access all your data from your favorite sources in one place.
Get started for free with a 30 - day trial.
Start Free Trial
Other Looker Studio Social Media Templates
Pros and Cons of Utilizing Looker Studio for Social Media Reports
Advantages
Clear Presentation
While social media statistics are available within specific apps, the display is often challenging to read. Looker Studio simplifies the layout, ensuring clarity for all metrics.
Focused Statistics
Native reporting in social apps can overwhelm with numerous data points. Google Data Studio Templates allow users to concentrate on the most relevant and important statistics.
Real-Time Updates
Many templates provide real-time data updates, allowing both users and their audience to access the latest information on social media presence.
Effortless Sharing
Avoid the inconvenience of receiving screenshots or confusing spreadsheets. Looker Studio's template format enables easy sharing through Google's functionality, providing audiences with live, interactive data.
Disadvantages
Maintenance Required
Periodic maintenance may be necessary, particularly when transferring dashboard ownership, to address potential data disconnections. Reconnecting is a straightforward process.
Dependency on Connectors or Manual Inputs
Not all social media platforms directly connect to Looker Studio. Users may require tools like Windsor.ai, Supermetrics or Dataslayer as connectors, or they may need to manually export and load data into Google Sheets. Detailed instructions for both methods are included with our dashboards.
Lack of All-Encompassing Template
While not a drawback in itself, it's essential to note that there is no template that consolidates data from every social media profile. This limitation aligns with the scarcity of free third-party tools offering such comprehensive features.
Learning Curve
Looker Studio is user-friendly, especially for those familiar with Google products. However, newcomers may need to invest some time in acquainting themselves with the platform.
Get Started On Your Looker Studio Social Media Report Template
Track your performance, optimize your social media campaigns, and show your social media strategy measurable results in real-time with our comprehensive Looker Studio social media report template.
The best way to pick a Looker Studio social media marketing template is to try it out.
Our free trial lets you do just that. Head over to Windsor.ai right now!
Forever Free Plan
SOC 2 Type 2 certified, supports single sign on and multi factor authentication
Capterra Review score average 4.8 out of 5
All connectors available on all plans: No premium connectors
In case you are looking for other templates, visit our marketing template gallery.
Read also:
Best E-Commerce Dashboard Templates
Best Lead Generation Dashboard Templates
Best Web Analytics Report Templates
Best Data Analyst Report Templates
Free Sales Dashboard Templates
Free KPI Tracking Templates For Marketers
Email Marketing Report Templates