Connect Pipedrive to Google Data Studio
Directly connect Pipedrive to Looker Studio in an easy-to-use format.
Analyze Marketing Metrics from Pipedrive in GDS
Why integrate Pipedrive with Google Data Studio?
By integrating Pipedrive with Google Data Studio, you can track the performance of your sales teams in real-time and identify which team members are performing well and which ones may need additional support or training.
Google Data Studio enables you to create custom reports and dashboards that monitor your key metrics such as the number of deals closed, the average deal size, and the conversion rate, and help you better understand your sales data.
You can share insights and metrics about your sales performance with your stakeholders in a visually appealing and easy-to-understand format by connecting Pipedrive to Google Data Studio.
You can track activities such as calls, emails, and meetings within Pipedrive. Integrating this data with Google Data Studio provides insights into the level of engagement with leads and prospects, helping you refine your outreach strategies.
Google Data Studio allows you to blend data from different sources. You can combine Pipedrive data with information from other systems (e.g., marketing platforms, finance tools) to gain a holistic view of your business.
About the Pipedrive Google Data Studio Connector
The Pipedrive Google Data Studio Connector pulls metrics and dimensions for Pipedrive. The Insights are retrieved at the campaign and ad levels.
Once the user successfully logs into the connector he can then choose the metrics and dimensions he is interested to create a report on.
Prerequisites
To set up the connector, the user should have:
How to connect Pipedrive to Looker Studio?
Do you plan to connect and visualize your Pipedrive in Google Data Studio? Follow the Tutorial Below:
Select the fields on the right to later use in your data source. For example, you can include metrics such as Cost per Click, Cost per Action or Total Spend.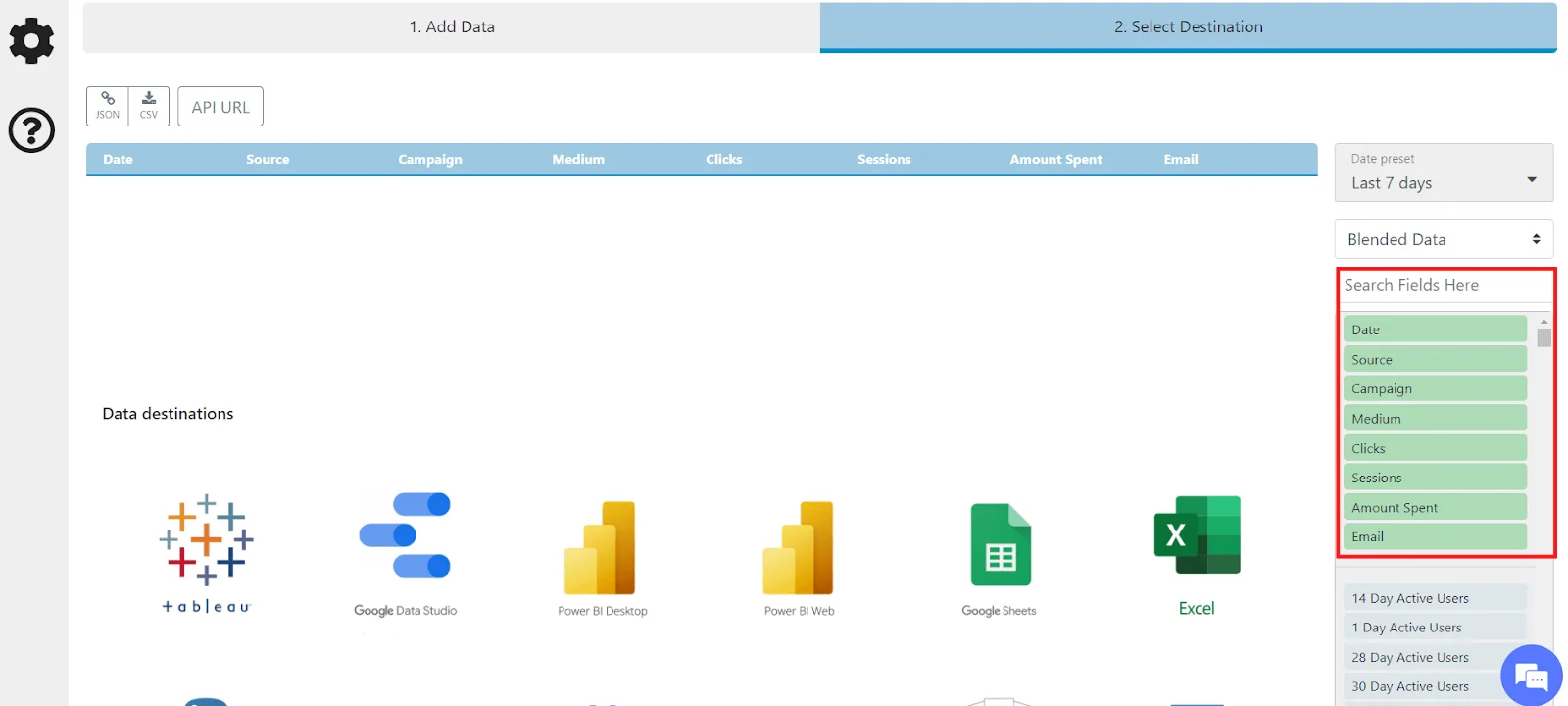 Go to "Select Destination" and choose Looker Studio.
Once done, select "connect" and authorize access to your data source.
Pipedrive dimensions available for streaming into Looker Studio
Extract Pipedrive data to Looker Studio with Windsor.ai
See the value and return on every marketing touchpoint
Providing 70+ marketing data streams, we make sure that all the data we integrate is fresh and accessible by marketers, whenever they want.
Spend less time on manual data loading and spreadsheets. Focus on delighting your customers.
Popular Google Data Studio and Pipedrive integrations